Graduating seniors recognized for outstanding academic achievements at 2021 Commencement Honors Dinner
Published by Logan Tuttle 1 month ago on Sat, May 8, 2021 10:41 AM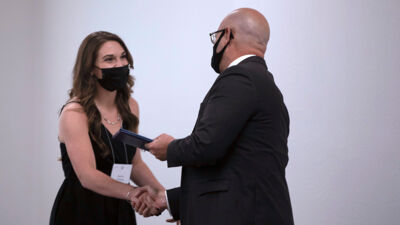 Kaitlyn Radebaugh of Roca, Neb., one of Concordia's graduating seniors recognized for outstanding academic accomplishments, receives her honors from Dr. Tim Preuss, Concordia provost, during the University's Commencement Honors Dinner May 7.
Concordia University, Nebraska honored graduating seniors who achieved outstanding academic accomplishments during their college career at its Commencement Honors Dinner on May 7.
Every year, each academic department may give two or more awards, depending on the size of the department and the number of students in the program. Each department establishes its own criteria for determining award recipients, but the criteria must, at minimum, consider the student's grade-point average, level of service to the department and level of service to Concordia.
"We are pleased and proud to honor these students for their accomplishments and as representatives of an outstanding student body," said Dr. Tim Preuss, Concordia provost. "These students have added significantly to our academic community and have been a blessing both to the faculty with whom they have studied and the students with whom they have learned."

Concordia's College of Arts and Sciences, represented by Dr. Brent Royuk, dean of the college, honored the following students:
Elizabeth Bergdolt, Grand Island, Neb., Chemistry
Luke Blomenberg, Norfolk, Neb., History, Human Biology
Jacob Garrison, Malcolm, Neb., English, Biblical Languages
Ryan Groh, Seward, Neb., Biblical Languages
Aaron Jackson, Palestine, Texas, Music
Sarah Johnson, Waconia, Minn., Art Education
Michael Leapley, New Berlin, Wis., Theology
Charlotte Lines, Marshall, Mo., Music Education
Abigail Lyons, Dwight, Neb., Organismal Biology
Dylan Paap, Dunbar, Neb., Physics
Samuel Sisco, David City, Neb., Graphic Design
Kara Stark, Magnolia, Texas, History
Hannah Watt, Fairmont, Minn., Theatre
Concordia's College of Business, represented by Jonathon Moberly, dean of the college, honored the following students:
Ross Briggs, Seward, Neb., Mathematics Education
Katherine Miles, Marshall, Mo., Business Administration, Marketing
Henry Reimer, Sussex, Wis., Accounting and Business Administration, Finance
Concordia's College of Education, Health and Human Services, represented by Dr. Lorinda Sankey, dean of the college, honored the following students:
Emma Brand, Springfield, Mo., Elementary Education
Jennika Chapman, Westminster, Colo., Exercise Science
Sydney Clark, Clive, Iowa, Public Health and Fitness
Callie Firminhac, Torrington, Wyo., Early Childhood Education
Erin Johnson, Daykin, Neb., Psychology
Olivia Johnson, Kansas City, Kan., Behavioral Science
Emily Jones, Benkelman, Neb., Special Education
Makayla Kosberg, Spring Hill, Kan., Secondary Education
Kaitlyn Radebaugh, Roca, Neb., Exercise Science
Katie Wrege, Georgetown, Texas, Middle-Level Education