"The Giver" to debut at Concordia University, Nebraska
Published by Concordia University, Nebraska 6 years ago on Fri, Feb 13, 2015 9:48 AM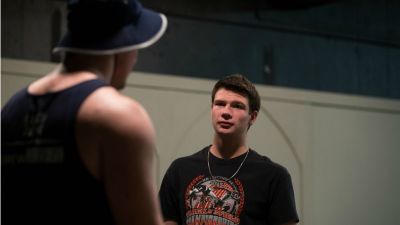 Andrew Crist (left) and Mark Esser rehearse for the showing of "The Giver" at Concordia Feb. 27–March 1.
Students will present a play adaptation of Lois Lowry's science fiction novel "The Giver" on Friday, Feb. 27, and Saturday, Feb. 28, at 7:30 p.m. and on Sunday, March 1, at 2 p.m. All performances will be in the Studio Theatre in the lower level of the Music Building.
The play, written by Eric Coble, is adapted from Lowry's Newbery Award winning novel published in 1993. The story is set in a seemingly utopian society and follows a boy named Jonas, played by Mark Esser, who is selected to store all of the past memories of the community as passed down from The Giver, played by Professor of Communication Bruce Creed.
"During the rehearsal process, we have discussed how much we take for granted in our own society, including the importance of making choices and the power of language," said Director Bryan Moore. "We hope this play will encourage audiences to reflect on their own lives and to appreciate the ability to express themselves fully through their decisions, actions and words."
Tickets are $5 for the community and $3 for Concordia students, faculty and staff.
Cast members:
Delaney Sommers, senior, Grain Valley, Mo., playing the role of a community member
Alicia Royuk, junior, Seward, Neb.playing the role of a community member
Aubrey Akerson, freshman, Pennock, Minn., playing the role of a community member
Conner Lloyd, senior, Parker, Colo., playing the role of a community member and also serving as the Dramaturg
Andrew Crist, junior, Springfield, Mo., playing the role of Asher
Taylor Baumeister, senior, De Pere, Wis., playing the role of Chief Elder
Michael Duffy, freshman, Kenesaw, Neb., playing the role of Father
Emily Jensen, junior, Sioux City, Iowa, playing the role of Fiona
Mark Esser, freshman, Mayer, Minn., playing the role of Jonas
Emma Wendorff, freshman, Winthrop, Minn., playing the role of Lily
Lindsey LaMountain, sophomore, Gretna, Neb., playing the role of Mother
Hannah Portrey, freshman, Omaha, Neb., playing the role of Rosemary
Dr. Bruce Creed, Professor of Communication at Concordia
Crew members:
Bryan Moore, Associate Professor of Communication & Theatre, director of the show
Robert Olson, community member helping with scenery
Pamela Jones, sophomore, Goleta, Calif., helping with costumes
Kirsten Awe, senior, Tilden, Neb., helping with costumes
Allison Caudle, sophomore, Greeley, Colo., helping with lighting
Andrew Magnus, senior, Springfield, Mo., helping with projections
Tanner Bohlender, sophomore, Lincoln, Neb., helping with projections
Joseph Pierson, sophomore, Van Buren, Ark., helping with scenery
Chad Berg, sophomore, West Fargo, N.D., helping with scenery
Bethany Williams, senior, Aurora, Colo., helping with sound
Dorian Doremus, junior, Grimes, Iowa, helping with sound
Stephanie Shearer, junior, Arapahoe, Neb., serving as the assistant director
Michaela Gierke, senior, Billerica, Mass., serving as the assistant stage manager
Emily Fehn, freshman, Freeland, Mich., serving as the stage manager