Gilbert and Sullivan's pirate romp takes stage at Concordia
Published by Concordia University, Nebraska 11 years ago on Wed, Oct 20, 2010 7:03 PM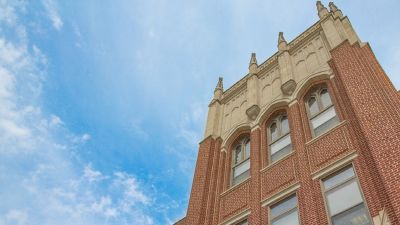 Aarrgh! Pirates set their sails for Concordia in November 2010 for the theatre department's production of Gilbert and Sullivan's Pirates of Penzance. Audiences watched the story of a pirate apprentice who celebrates his 21st birthday and decides to leave the pirate crew for other adventures.
"I chose this because it was a nice combination of entertaining humor for the audience and an artistic challenge for the cast and crew," said Bryan Moore, assistant professor of communication and theater and the show's director. "I like everything I work on to be entertaining and educational in some way."
The show was indeed a learning experience for the cast.
"The operetta style challenges not only the lead actors, but also the chorus," said Moore. "It makes every moment important in terms of the presentation. There is very little dialogue beyond the music, so you have to be able to share the story through the songs."
Dr. Kurt von Kampen, professor of music, and Marci DeAmbrose, adjunct faculty in music, worked with the chorus and the soloists. Andrew Schultz, assistant professor of music, worked with the orchestra, which was conducted by senior music student Charles Chaveriat. Graduate student Julie Klinge was the rehearsal pianist, and sophomore Amanda Schroeder and junior Abbie Kuehn choreographed the show.
Cast
Lindsey Auten, Senior, Blue Hill, Neb.
Sarah Dinger, Sophomore, Pocatello, Idaho
Toby Elbert, Senior, Ramstein, Germany
Joseph Furr, Senior, Ontario, Ohio
Megan Heidemann, Senior, Seward, Neb.
James Jensen, Junior, Denver, Colo.
Katie Krause, Senior, Rockford, Ill.
Nick Lee, Senior, Seward, Neb.
Christa Lindeman, Sophomore, Arvada, Colo.
Dan Miller, Sophomore, West Point, Neb.
Henning Peterson IV, Junior, Parker, Colo.
Tory Petz, Junior, Beemer, Neb.
Brittany Pottschmidt, Junior, Brownstown, Ind.
Audrey Quick, Junior, Hanceville, Ala.
Allegra Rickaby, Freshman, Salem, Ore.
Joshua Schultz, Junior, Mapleton, Minn.
Caitlynn Schwehn, Sophomore, Grand Island, Neb.
Alina Swoboda, Junior, Genoa, Neb.
Bryce Tellmann, Junior, New Salem, N.D.
Jacob Wagner, Senior, Paullina, Iowa
Rory Wendelin, Junior, Oberlin, Kan.
Steven Whitney, Junior, Kenyon, Minn.
Crew
Director: Bryan Moore, Assistant Professor of Communication and Theater
Assistant director: Beth Brackmann, Junior, Parker, Colo.
Stage manager: Kelli Claassen, Sophomore, Waverly, Neb.
Assistant stage manager: Kristin Easler, Junior, Fredericksville, Va.
Rehearsal accompanist: Julie Klinge, Graduate Student, Seward, Neb.
Orchestra conductor: Charles Chaveriat, Senior, Brookfield, Wis.
Soloist coach: Marci DeAmbrose, Adjunct Faculty in Music
Choral coach: Kurt von Kampen, Professor of Music
Orchestra
Emily Brandt, Sophomore, Loveland, Colo.
Briee Burrill, Senior, Loveland, Colo.
Debbie Deardoff, Junior, Brandon, S.D.
Caley Gerth, Senior, Alliance, Neb.
Julia Gremmer, Junior, New Braunfels, Texas
Andrew Hammes, Freshman, Colorado Springs, Colo.
Joel Heckmann, Sophomore, Canton, S.D.
Andrew Houghton, Senior, Perry, Okla.
Natalie Kesar, Freshman, Omaha, Neb.
Julie Klinge, Graduate Student, Seward, Neb.
Erika MacGregor, Junior, Kallispell, Mont.
Tim Rehbein, Sophomore, Omaha, Neb.
Syndey Reich, Freshman, Salina, Kan.
Erik Scherer, Freshman, Bismark, N.D.
Katelyn Sievert, Sophomore, River Forest, Ill.
Hillary Synder, Junior, Dodge City, Kan.
Ben Stratman, Sophomore, Overland Park, Kan.