Gene Veith speaks at classical Lutheran education event on Concordia Nebraska campus
Published by Brooke Lange 3 months ago on Thu, Oct 27, 2022 4:02 PM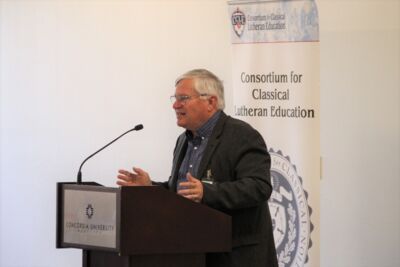 Renowned author Dr. Gene Edward Veith was one of three guest speakers at a special event that took place on the Concordia Nebraska campus on Friday, October 21. The special event was presented by the Consortium for Classical Lutheran Education (CCLE).
The event – a lunch-and-learn style gathering titled "Classical Lutheran Education: A Growing Movement" featured presentations by Veith, CCLE president and board chairman Rev. Steve Kieser of Faith Lutheran Church and School in Plano, Texas and Concordia Nebraska professor Dr. Gabriel Haley.
All three speakers at the event discussed what classical Lutheran education is and is not, why classical education is a growing movement, and what opportunities there are for college graduates in classical Lutheran education. They also addressed why an increasing number of Lutheran schools are adopting the classical education approach and why more educators are understanding the value of the pedagogy and principles reinforced by the classical liberal arts.
"Classical education goes back to the kind of education given in the Greek democracies and the Roman republic to equip citizens for freedom," said Veith. "Classical education teaches students knowledge, understanding, and creative application. When Martin Luther and Philip Melanchthon opened schools to teach Christians how to read the Bible, they chose to implement a classical curriculum plus catechesis, giving students an excellent education that led to unprecedented social mobility."
The lunch event was attended by a crowd of about 100 guests that included Concordia Nebraska students, faculty and staff, and community guests. The mid-day presentations were followed by an evening informal group discussion that included Veith, Kieser, Haley and Concordia Nebraska president Dr. Bernard Bull. The panel discussed classical Lutheran education, audience questions, suggested reading and other topics during a social gathering at Bottle Rocket Brewing Co. in Seward.