Four Concordia ensembles to perform concerts
Published by Concordia University, Nebraska 6 years ago on Fri, Apr 10, 2015 9:57 AM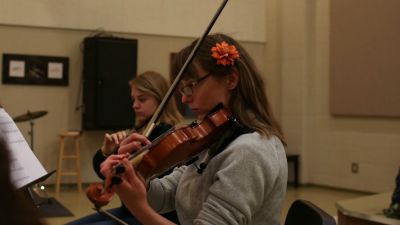 Emmiline Moll (left) and Anna Schleusener rehearse for the April 23 Chamber Choir and Chamber Orchestra concert on campus at Concordia University, Nebraska.
Four musical ensembles from Concordia University, Nebraska will perform two combined concerts in April. The Chamber Choir and Chamber Orchestra will perform at 7 p.m. on Thursday, April 23, in the Recital Hall of Concordia's Music Center. The Male Chorus and Women's Chorale will perform at 4 p.m. on Sunday, April 26, at St. Gregory the Great Seminary in Seward, Nebraska.
"Each semester the ensembles rehearse to prepare for concerts that are as close to the end of the semester as possible," said Dr. Kurt von Kampen, conductor of Chamber Choir and Male Chorus. "Not only does the music need to be learned but also internalized so the performances can be done with confidence and meaning."
The Chamber Choir and Chamber Orchestra will each perform a variety of musical pieces. They will also come together to perform two pieces written by the orchestra director, David von Kampen. The first is his latest composition, "Go To Dark Gethsemane," published by Concordia Publishing House, and the second is the final movement from his Lutheran Divine Service setting "Benediction."
The Male Chorus and Women's Chorale concert is titled "Lessons and Anthems" and will include a variety of sacred music sung by each choir. The men and women also will combine to sing "Lamb of God" by Women's Chorale conductor Jeffrey Blersch and "Festival Sanctus" by John Leavitt.
Concordia alumnus Paul Soulek of Seward, Nebraska, contributes to the concerts on piano and organ.
Students performing in the Chamber Choir include (alphabetical order by state, city, last name):
Jacob Fink, sophomore, Long Beach, Calif., bass
Joshua Weishaar, senior, Salinas, Calif., bass
Evan Root, senior, Naples, Fla., tenor
Meredith Locke, freshman, Winter Haven, Fla., soprano
Matthew Kortze, freshman, Rockford, Ill., bass
Jennifer Reynolds, senior, Fort Wayne, Ind., alto
Luke Wohlgemuth, senior, Alton, Iowa, bass
Zachary Klatt, senior, Shawnee Mission, Kan., tenor
Emily Sievert, sophomore, Frankenmuth, Mich., soprano
Benjamin Hayter, sophomore, Concordia, Mo., tenor
Karen Burgess, junior, Lee's Summit, Mo., soprano
Tapainga Kahle, freshman, Imperial, Neb., soprano
Clara Rich, junior, Lincoln, Neb., alto
Shelby Stolze, senior, Norfolk, Neb., alto
Adrienne Langewisch, senior, Seward, Neb., alto
Jordan Miller, senior, Tomball, Texas, tenor
Students performing in the Chamber Orchestra include:
Meredith Locke, freshman, Winter Haven, Fla., violin
Sarah Krause, sophomore, Rockford, Ill., viola
Mary Carnoali, junior, Hampton, Neb., violin
Clara Rich, junior, Lincoln, Neb., piano
Don Dynneson, community member, Seward, Neb., cello
Emmiline Moll, sophomore, Seward, Neb., violin
Anna Schleusener, junior, Utica, Neb., violin
Grace Woelmer, sophomore, Allen, Texas, cello
Krista Schmidt, sophomore, Giddings, Texas, violin
Students performing in the Male Chorus include:
Cameron Christiansen, sophomore, Palmer, Alaska, Bass II
Benjamin Leeper, junior, Falcon, Colo., Bass I
Jacob Henson, junior, Herrin, Ill., Bass I
Andrew Franke, junior, Hoopeston, Ill., Bass II
Joel Prince, freshman, Mascoutah, Ill., Tenor I
Christian Schultz, senior, Wamego, Kan., Bass II
Tyler Hoyt, freshman, Tyngsboro, Mass., Tenor I
Thomas Wyatt, senior, Bethel, Minn., Bass I
Mark Esser, freshman, Mayer, Minn., Tenor II
Micah Holten, freshman, Nicollet, Minn., Tenor II
Aaron Hentges, sophomore, Oak Grove, Mo., Tenor II
Theodore Mehl, junior, Concordia, Mo., Tenor II
Tim Mehl, sophomore, Concordia, Mo., Bass II
Kenton Burgess, freshman, Lee's Summit, Mo., Tenor II
Todd Rakow, sophomore, Lohman, Mo., Bass I
Todd Brueckner, junior, Perryville, Mo., Tenor I
Andrew Crist, junior, Springfield, Mo., Bass I
Chris Genszler, freshman, St. Louis, Mo., Bass I
Sean Carpenter, senior, Hollis, N.H., Tenor II
Nathan Elbert, freshman, Albuquerque, N.M., Tenor II
Alexander Goodwin, freshman, Greece, N.Y., Tenor II
Michael Sanderson, freshman, Hastings, Neb, Bass I
Tyce Clark, freshman, Kenesaw, Neb., Tenor II
Michael Duffy, freshman, Kenesaw, Neb., Bass II
Paul Nelson, sophomore, Norfolk, Neb., Bass I
John Woruo, freshman, Omaha, Neb., Bass I
Cameron Loges, freshman, Seward, Neb., Tenor II
Paul Soulek, Concordia alumnus, Seward, Neb., Tenor I
Mitch Walkup, senior, York, Neb., Bass II
Devon Thompson, freshman, Sioux Falls, S.D., Tenor I
Andrew Vought, freshman, Three Lakes, Wis., Bass I
Students performing in the Women's Chorale include:
Julia Tyree, junior, Benicia, Calif., Alto I
Laura Wiederrich, junior, Lodi, Calif., Soprano II
Ashley Johnson, sophomore, Long Beach, Calif., Soprano II
Elizabeth Maxwell, senior, Santa Ana, Calif., Alto I
Allison Caudle, sophomore, Greeley, Colo., Alto II
Grace Stults, freshman, Monte Vista, Colo., Soprano II
Christina Bernard, freshman, Port-Au-Prince, Hati, Alto I
Quincy Rensner, sophomore, Effingham, Ill., Alto I
Lauren Sperry, sophomore, Oneida, Ill., Soprano II
Rachel Krause, senior, Rockford, Ill., Soprano I
Naomi Quigg, sophomore, Springfield, Ill., Alto I
Leah Maag, senior, Waterloo, Ill., Soprano II
Karina Keating, junior, Woodstock, Ill., Soprano I
Morgan Eggert, sophomore, Atkins, Iowa, Alto II
Megan Barz, sophomore, Dubuque, Iowa, Alto I
Noel Vickery, senior, Ocheyedan, Iowa, Soprano II
Naomi Greder, junior, Sloan, Iowa, Alto II
Sloane Crawshaw, sophomore, Wichita, Kan., Alto I
Emily Fehn, freshman, Freeland, Mich., Soprano II
Naomi Kuddes, senior, Austin, Minn., Alto I
Libby Klein, sophomore, Northfield, Minn., Alto I
Brianna Cripps, freshman, Winona, Minn., Alto II
Shannon O'Brien, freshman, Winona, Minn., Alto II
Abby Whitener, freshman, Manchester, Mo., Soprano II
Angela Steinbacher, junior, Saint Charles, Mo., Alto II
Sarah Brutlag, sophomore, St. Louis, Mo., Soprano II
Claire Fuhler, sophomore, St. Louis, Mo., Soprano II
Samantha Coomer, sophomore, Wentzville, Mo., Soprano II
Allison Ebel, freshman, Billings, Mont., Soprano I
Emily Theiss, sophomore, Raleigh, N.C., Alto I
Erika Borslien, sophomore, West Fargo, N.D., Alto II
Marol Feickert, sophomore, Lawrenceville, N.J., Soprano I
Christa Groeling, freshman, Albuquerque, N.M.
Emilia Mugnolo, freshman, Marion, N.Y., Alto I
Emily Muench, senior, Chapman, Neb., Soprano II
McKenzie Akeson, freshman, Chappell, Neb., Soprano II
Jillian Janousek, senior, Clarkson, Neb., Soprano II
Allison Mackie, sophomore, Columbus, Neb., Soprano I
Naomi Ristvedt, senior, Crete, Neb., Soprano II
Karlene Embretson, sophomore, Falls City, Neb., Soprano II
Harmony Fiala, freshman, Fremont, Neb., Alto I
Hope Moural, freshman, Fremont, Neb., Alto I
Amanda Ruether, freshman, Fremont, Neb., Soprano I
Lara Bergdolt, senior, Grand Island, Neb., Alto I
Lauren Staehr, senior, Grand Island, Neb., Alto II
Carly Rushman, sophomore, Gurley, Neb., Alto I
Brooke McNiel, freshman, Holdrege, Neb., Soprano II
Rebecca Odom, senior, Lincoln, Neb., Alto I
Emma Schmeling, sophomore, Louisville, Neb., Soprano II
Emma Schmeling, sophomore, Louisville, Neb., Alto II
Angelica Blomenberg, sophomore, Norfolk, Neb., Soprano I
Elyssia Finch, junior, Omaha, Neb., Soprano I
Hannah Portrey, freshman, Omaha, Neb., Soprano II
Chelsea Sherman, junior, Omaha, Neb., Alto II
Rosa Gonzales, freshman, Schuyler, Neb., Alto I
Victoria Kenow, junior, Seward, Neb., Alto I
Emily Hayes, freshman, Superior, Neb., Soprano I
Kirsten Awe, senior, Tilden, Neb., Alto II
Sarah Smith, senior, Unadilla, Neb., Soprano II
Michaela Curran, junior, Wahoo, Neb., Alto I
Emily Meisinger, sophomore, York, Neb., Alto I
Heather Rasch, sophomore, Jos, Nigeria, Soprano I
Grace Woelmer, sophomore, Allen, Texas, Soprano II
Elizabeth Frerking, sophomore, Tomball, Texas, Alto I