Five Concordia faculty members exhibit art at Marxhausen Gallery
Published by Concordia University, Nebraska 7 years ago on Mon, Feb 16, 2015 9:42 AM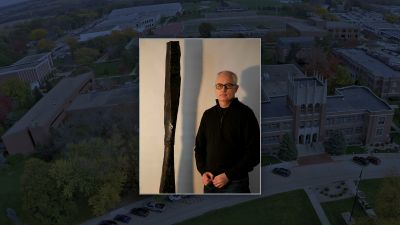 Concordia Associate Professor of Art Don Robson created a sculpture that will be exhibited in the Marxhausen Gallery of Art on Concordia's campus starting Feb. 22.
Five Concordia faculty members exhibited original pieces of art in the Marxhausen Gallery of Art from Feb. 22 to March 27. There was an opening reception on Sunday, March 1, from 1 to 4 p.m. with an artist talk at 2 p.m. in the gallery.
"The exhibit provided an opportunity for the campus and the Seward community to see the recent results of current research being completed by this community's department of art," said James Bockelman, director of the Marxhausen. "It provided the art faculty with a public forum in which to present their ideas and potentially receive feedback from their academic peers, as well as from members of the surrounding community."
The exhibit featured a variety of artwork created by full-time art professors James Bockelman, Seth Boggs, Don Robson, Joshua Smith and Lynn Soloway.
One highlight of the exhibit included a 3-D piece by Robson consisting of asphaltum and fragments of cattle bone on 300-pound watercolor paper. Robson said the piece is the result of an exploration in finding peace through the act of mark-making.
Other works in the display included a variety of Soloway's culturally inspired adornments created with gemstones and sterling silver, as well as a video project by Boggs that featured vintage home videos, found footage and typography.
The exhibit was open to the public and free of charge. The Marxhausen Gallery is located in Jesse Hall and is open Monday–Friday from 11 a.m. to 4 p.m. and Saturday and Sunday from 1 p.m. to 4 p.m.