Festival brings back previously featured authors, offers two community events
Published by Concordia University, Nebraska 6 years ago on Thu, Aug 13, 2015 10:35 AM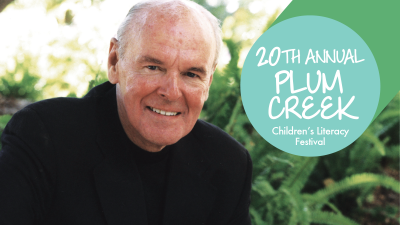 Richard Peck will offer the keynote address at the Plum Creek Children's Literacy Festival. He has written more than 18 novels for young readers and is a Newbery award winner.
Concordia University, Nebraska will host its 20th annual Plum Creek Children's Literacy Festival Oct. 1–3, 2015, on campus in Seward. The anniversary festival will honor its history by showcasing authors and illustrators who have participated in festival activities in past years. Some new presenters will also participate this year.
"These well-known professionals graciously come to campus and visit the surrounding areas to engage children in reading, writing and illustration," said Dr. Janell Uffelman, director of the festival. "Their interactions with the children align with the mission of the festival, which is to encourage a love of reading and writing, and we are so thankful that they have chosen to share their talents with us."
Authors and illustrators at the event are returning favorites Andrew Clements, Carmen Deedy, Denise Fleming, Steven Kellogg, Jerry Pallotta, Richard Peck and Janet Stevens. Authors Tomie dePaola, Eric Litwin and Peter Lourie are new to the festival.
The events on Oct. 1 for Seward schools and Oct. 2 for commuting schools include author talks, a play put on by Concordia's theater program and activities such as an art session, creative writing workshop, music session, science presentation and games on the green space on campus.
The festival includes the adult conference on Oct. 3 with authors, illustrators and 15 literacy experts speaking on a variety of topics. The conference features a luncheon and keynote address by Richard Peck, who has written more than 18 novels for young readers. Peck is a Newbery award winner.
Two additional features brought to the community by the Plum Creek Children's Literacy Festival include an art exhibition and community presentation. A special exhibition of "The Art of Eric Carle: Feathers, Fins and Fur" in the Marxhausen Gallery of Art on Concordia's campus. The work of Carle, who created "The Very Hungry Caterpillar" and other books, will be on display Aug. 24-Oct. 3. In addition, Clayton Anderson, a small-town Nebraskan who spent 167 days living and working in space, will share his story Oct. 1 from 7:30 to 8:30 p.m. in Weller Auditorium on Concordia's campus. At Anderson's presentation, copies of his new book, "The Ordinary Spaceman," will be available for purchase and autographs. The Clayton Anderson presentation is also sponsored by Jones National Bank & Trust Company.
"Clayton Anderson's experiences demonstrate humility and perseverance in such unique ways," said Uffelman. "His contributions to the children's festival days and his October 1 community presentation will leave those in attendance with a new perspective on life."
Admission to both the Marxhausen Gallery and the Clayton Anderson event is FREE and open to the public.
The festival is also pleased to announce a new Plum Creek Children's Literacy Festival coordinator: Dylan Teut, a 2012 (bachelor's) and 2015 (master's) graduate of Concordia University, Nebraska.
Teut was recently named by the International Literacy Association as being one of the "Top 30 Under 30" literacy leaders in the world. He received the K-5 Reading Teacher of the Year by the Illinois Reading Council in 2014. A frequent conference presenter, Dylan has contributed to Debbie Diller's upcoming book, "Growing Independent Learners," and he is also working on a book about literacy in the primary classroom.
"It has been a joy to watch Dylan emerge as a dynamic literacy leader!" said Uffelman. "Dylan's passion for literacy was evident when he served as a festival volunteer as an undergraduate student at Concordia. He understands the mission and is eager to innovatively enrich the festival while retaining that which is unique to the Plum Creek experience."
For more information on the festival, visit cune.edu/plumcreek.