"Everyday Beauty" opens at Wolfram Gallery
Published by Concordia University, Nebraska 12 years ago on Mon, Dec 6, 2010 6:06 PM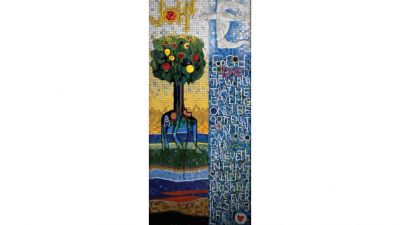 "John" is a mosaic Marxhausen created for St. John Lutheran School in Forest Park, Ill.
A hallmark of Concordia Professor Emeritus Reinhold Marxhausen's teaching career was his ability to show others new ways to see their everyday surroundings. A new exhibit, "Everyday Beauty," at the Wolfram Gallery at the Lutheran Church–Missouri Synod International Center in St. Louis, Missouri, shows how he used his artistic philosophy throughout his artistic career. The exhibit, curated by Abby Lange and sponsored by Concordia's Center for Liturgical Art, opened Wednesday, Dec. 22.

"Everyday Beauty" presents an overview of Marxhausen's life and his contributions to art in Lutheran churches in the 1950s through 1980s. It features photos of Marxhausen's liturgical art in churches across the United States, as well as pieces of his found-object art. Marxhausen's interest in using recycled material appears in mosaics, chancel sculpture and crosses in the show. Additional artwork made from dryer lint, garden gloves and scrap metal also are on display.

Marxhausen taught at Concordia from 1951 until his retirement in 1989, mentoring hundreds of students and becoming well known for his creative teaching strategies. Marxhausen also gained recognition by exhibiting his artwork and giving talks and hands-on seminars at churches and schools nationwide. His most well-known works include two giant mosaic murals in the Nebraska State Capitol building and charming, pocket-size sound sculptures called "Stardust."

The exhibit is free and open to the public from 7 a.m. to 4:15 p.m. Visitors are encouraged to call ahead for an appointment at 800-248-1930. The International Center is located at 1333 S. Kirkwood Rd, St. Louis, Missouri.