English, communication and theater honor societies induct new members at Concordia
Published by Concordia University, Nebraska 9 years ago on Fri, May 10, 2013 6:07 PM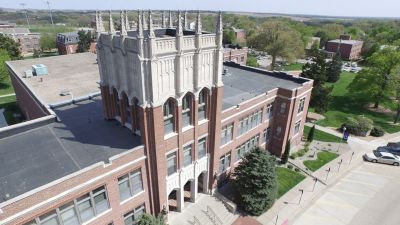 Three honor societies at Concordia inducted members during ceremonies held during the first week of May. The societies recognize outstanding students in the areas of English, communication and theater arts.
Sigma Tau Delta, a national English honor society, inducted three members into Concordia's Rho Omicron chapter, one of over 775 active chapters across the U.S. Concordia's chapter publishes Potpourri, an annual student literary magazine, and provides professional and academic opportunities including internships and scholarships for its members.
Sigma Tau Delta inductees:
Rachel Bohnhoff, Junior, Plymouth, Wis.
Abigail Connick, Junior, Salida, Calif.
Tyler Nicholas, Junior, Lincoln, Neb.
Pi Kappa Delta, a national collegiate forensic organization, inducted 14 members into its Nebraska Lambda chapter. This society recognizes scholars in the areas of communication, speech and debate. It offers service and fellowship opportunities and promotes the ethical and honest use of communication and research. Pi Kappa Delta celebrates its 100th year as an honor society in 2013.
Pi Kappa Delta inductees:
Nicholas Butcher, Junior, Saginaw, Mich.
Erin Cernik, Junior, Wichita, Kan.
Collin Christiansen, Sophomore, Palmer, Alaska
Abigail Connick, Junior, Salida, Calif.
Rachel Cutler, Sophomore, Kalispel, Mont.
Ellen Franzmeier, Junior, Newell, Iowa
Molly Kenow, Junior, Seward, Neb.
Melissa McIntosh, Sophomore, Raymond, Neb.
Rebecca Monnier, Junior, Bellevue, Neb.
Tyler Nicholas, Junior, Lincoln, Neb.
Ann Schmidt, Junior, Giddings, Texas
Jacquelyn Schwartz, Sophomore, Canton, Mich.
Stephanie Rippstein, Junior, Seward, Neb.
Garrett Suchanek, Sophomore, Grand Island, Neb.
The Nebraska Omega Lambda chapter of Alpha Psi Omega, a national theater honor society, inducted eight members this spring. The society recognizes student involvement in theater arts programs. Admission is based on a points system, and inductees must recite a Shakespearean monologue during their induction.
Alpha Psi Omega inductees:
Ryan Fiero, Senior, Austin, Texas
Michaela Gierke, Sophomore, Billerica, Mass.
Conner Lloyd, Sophomore, Parker, Colo.
Andrew Magnus, Sophomore, Springfield, Mo.
Bethany Osberg, Senior, Norfolk, Neb.
Amanda Schroeder, Senior, Stevens Point, Wis.
Stephanie Schroeder, Junior, Deshler, Neb.
Cayde Sprecker, Senior, Woodbine, Iowa