Eleven Concordia University students serve on Guatemala medical mission trip
Published by Concordia University, Nebraska 5 years ago on Thu, Mar 16, 2017 10:17 AM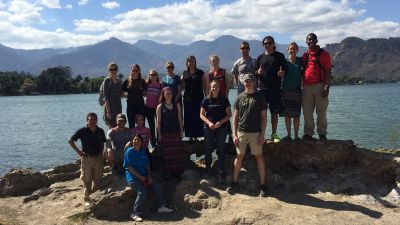 Eleven Concordia students pose at Amatitlan Lake at the Holy Cross Clinic with their translator, Sonya, Dr. Elry of Guatemala, Dr. Elry's son, Sammy, Dr. Jennifer Janousek, Dr. Sarah Matthias and Jill Beisel.
Eleven students from Concordia University, Nebraska spent their spring break serving in Guatemala on a medical mission trip led by Concordia's associate professor of health and human performance, Dr. Jennifer Janousek, Dr. Sarah Matthias, a pediatrician at Complete Children's Health in Lincoln, Nebraska and Jill Beisel, a physician assistant at Gastroenterology Specialties in Lincoln.
"It's truly a blessing to be able to serve in Guatemala and share my love of the country and culture with my students," said Janousek. "As much as I would like to think we are helping and encouraging the people in Guatemala, I truly believe the Guatemalan people are ministering to us even more. It is definitely a faith growing experience serving one another and seeing firsthand how God is at work."
The students stayed and worked in Amatitlan, Guatemala at Santa Cruz church and medical clinic. Additionally, they worked in two villages in the mountains called Jocotillo and Mastilla Bajas. Each day, the group hosted a medical clinic and conducted a health fair for students and families on topics such as handwashing, parasite prevention, dental hygiene, nutrition, first aid, poison prevention and spiritual health.
"There aren't enough words to describe how incredible the medical mission trip was," said Concordia senior, Alayna Kavanaugh. "The team we took was full of incredible people and we all connected very quickly. It was easy to feel heavy and distraught over the corruption and injustice the people of Guatemala face every day, but God's presence and work are evident. I already miss the country and its' beautiful people, but I know I'll be back there some day!"
The students prepared for the trip in Janousek's global health undergraduate course this semester.
Students attending the trip include:
Austin Nelson, senior, Seward, Neb.
Kaylyn Beiermann, sophomore, Lincoln, Neb.
Samantha Boardman, senior, Seward, Neb.
Maria Carabantes, junior, Omaha, Neb.
Coleman Cogswell, senior, Seward, Neb.
Le'Dontrae Gooden, senior, Sacramento, Cali.
Brett James, senior, Kearney, Neb.
Kailey Bales, freshman, Elkhart, Kan.
Alayna Kavanaugh, senior, Roca, Neb.
Kelli Niemeier, senior, Beatrice, Neb.
Lisa Pope, sophomore, Lincoln, Neb.