Early childhood conference features Teaching Strategies founder
Published by Concordia University, Nebraska 7 years ago on Fri, May 9, 2014 10:37 AM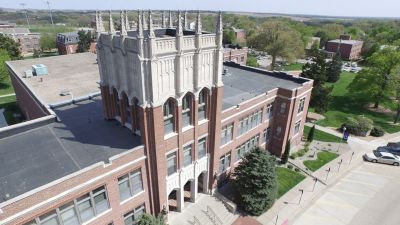 Early childhood specialists and teachers gathered for the Playing by the Rules 2014 Early Childhood Conference June 18 at Concordia. The conference was open to the public.
Diane Trister Dodge, the founder and president of Teaching Strategies Inc., delivered the keynote address for the conference. Teaching Strategies strives to improve the quality of early childhood programs by providing resources in curriculum, assessment, professional development and family connections. Trister Dodge co-authored "The Creative Curriculum" and other resources used in Head Start, child care and pre-kindergarten programs around the world.
The conference also featured Deborah Stroh, an educator, artist, administrator, speaker and author who discussed the image of Christ that young children experience. Stroh spoke during the luncheon.
In addition to keynote speakers, the conference included three breakout sessions with a variety of topics available. A Scholastic Book Fair was held in Room 106 of the Thom Leadership Education Center, and attendees could purchase books by seminar speakers and other authors at the Concordia Bookstore, located in the lower level of the Janzow Campus Center.
Conference schedule:
8 a.m. Registration, Thom Leadership Education Center lobby
8:30 a.m. Welcome, Weller Hall auditorium
8:45 a.m. Keynote speaker Diane Trister Dodge
10 a.m. Break
10:15 a.m. Sectional I
11:45 a.m. Lunch and Deborah Stroh presentation, Janzow Campus Center
1:15 p.m. Sectional II
2:15 p.m. Break
2:30 p.m. Sectional III
For a complete list of sectional topics, visit cune.edu/ecc.