Dylan Teut named to International Literacy Association's inaugural 30 Under 30 list
Published by Concordia University, Nebraska 6 years ago on Wed, Sep 2, 2015 10:16 AM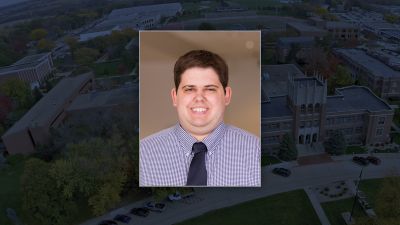 Dylan Teut, Plum Creek Children's Literacy Festival coordinator at Concordia University, Nebraska in Seward
The International Literacy Association (ILA), a global advocacy and membership organization dedicated to advancing literacy for all, announced Dylan Teut, Plum Creek Children's Literacy Festival coordinator at Concordia University, Nebraska from Seward, Nebraska, as an honoree named to its inaugural 30 Under 30 list. The list recognizes the next generation of young innovators, advocates and educators who are leading efforts to address the challenges of today's evolving education landscape and make a difference in the global literacy landscape.
Dylan was selected for his unique contribution to the fight against global illiteracy and within his community. Dylan promoted literacy in Illinois as a first grade teacher, where he also established a literacy festival in his community. He is now promoting literacy through his work with the Plum Creek Children's Literacy Festival in Seward, Nebraska, and also authoring a book about reading in the primary classroom.
"I am proud to recognize Dylan, who is part of a new generation of champions playing a critical role in the future of literacy around the world," said Marcie Craig Post, executive director, International Literacy Association. "Today, an astounding 12 percent of the global population is unable to read or write. These 30 young education champions are developing new, creative strategies to close the literacy gap and, in the process, are transforming lives in their communities and around the world."
ILA's 30 Under 30 list highlights young trailblazers from 13 countries and several different sectors and includes nonprofit leaders, classroom teachers, authors, volunteers, researchers, technology startup founders and entrepreneurs. Each honoree has created and implemented an initiative that has directly improved the quality of literacy instruction or that increased access to literacy tools in the classroom, community and/or online.
ILA's 30 Under 30 honorees are featured in the September/October issue of Literacy Today, ILA's bi-monthly magazine, which published Sept. 1. The honorees will be invited to participate in upcoming global literacy community activities that support the shared cause of advancing literacy for all. To view the Literacy Today feature, visit literacyworldwide.org/30under30.
To view the full list of honorees, visit literacyworldwide.org/30under30.