Dr. Robert Hermann receives Outstanding Teaching Award
Published by Concordia University, Nebraska 6 years ago on Sat, May 7, 2016 10:21 AM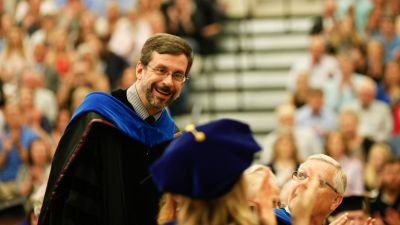 During Concordia University, Nebraska's commencement ceremony May 7, 2016, Dr. Robert Hermann reacts to the announcement that he was selected as the recipient of the 2016 Outstanding Teaching Award.
Dr. Robert Hermann, professor of physics, health careers program director, Osten Observatory director and chair of the natural science department, was presented with the 2016 Outstanding Teaching Award at the university's commencement ceremony May 7, 2016.
The honor is given to a full-time faculty member who has been nominated by students. A committee of students, as well as faculty members who have previously received the award, selects the recipient. The recipient's name is not revealed until it is called during commencement. Student Senate President Alicia Royuk and Vice President Noel Richardson presented the award.
"I'd like to thank the students. This is an amazing surprise and a fantastic honor," said Hermann as he accepted the award. "It's also a challenge because as I look at the amazing faculty that I get to work with, I know that every one of them is at least as good as I am, and most are better. And as I look at the graduates, no teacher can do anything without fantastic students in their class, so thank you to all of my students. This is especially meaningful to me today because one of my great mentors, Mr. Ron Brandhorst, is here from the Class of '66. He was my physics teacher in high school, and for my entire career he has been my role model and the person that I've tried to emulate. I'd like to also thank my team and Julie, my wonderful wife. Thank you very much."
Hermann has been teaching various levels of physics courses at Concordia since August 1999. He has also taught astronomy, science and society, classical mechanics, electronics and electricity and magnetism.
"Dr. Hermann is a fabulous classroom teacher. He's well-known for his willingness to help students outside of class and for making difficult material in physics understandable," said University Provost Dr. Jenny Mueller-Roebke. "Beyond teaching, he is critical to the university in many other ways, including his contributions as chair of the natural science department and his efforts to coordinate Concordia's reaccreditation with the Higher Learning Commission. He constantly exhibits a strong work ethic and wears more hats than almost anyone else, yet he remains humble regarding all of his accomplishments. It brings me great joy to honor him with the Outstanding Teaching Award."
Prior to coming to Concordia, Hermann taught at Maryville University in St. Louis, Missouri, at Willamette University in Salem, Oregon, and at Portland Lutheran School in Portland, Oregon. Hermann's research interests include infrared astronomy, particularly in the area of stellar evolution, and image restoration and processing.
Hermann is also involved in community outreach programs in astronomy, and he presents observatory shows for school groups and for the public.
Hermann earned his doctorate from University of Wyoming and a Bachelor of Science in Education from Concordia College in Seward, Nebraska.
He has held professional memberships in the Astronomical Society of the Pacific, American Association of Physics Teachers (AATP) and the Nebraska Section of the AAPT.