Dr. Kristen Nugent receives 2020 Outstanding Teaching Award
Published by Concordia University, Nebraska 7 months ago on Sat, Aug 1, 2020 4:49 PM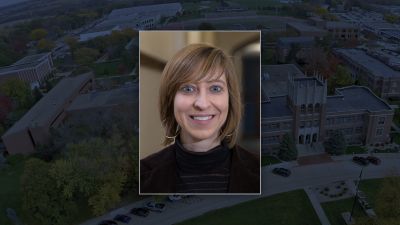 Dr. Kristen Nugent, Concordia's director of secondary education and assistant professor of education, received the 2020 Outstanding Teaching Award Aug. 1 during the University's commencement ceremony.
The honor is given to a full-time faculty member who has been nominated by students. A committee of students, as well as faculty members who have previously received the award, selects the recipient. Nugent learned of the honor during the commencement ceremony.
"I will never forget this and I will never forget any of you, my education students," Nugent said. "You are so dear to my heart and you're going into just the best profession. Being with people, teaching people, learning from people, it's the best thing I could have ever done in my life."
As an educator for more than 20 years, Nugent has served Concordia since 2015, where she teaches Diverse Classrooms and Human Relations, Classroom Organization and Leadership, World Language Methods and secondary/K-12 Student Teaching Seminar. She also advises secondary education students.
Nugent earned her Ph.D. in educational studies, with an emphasis on world language teaching methods from the University of Nebraska-Lincoln in 2016. Previously, she served as an AmeriCorps volunteer in Chicago, before teaching high school French in Illinois and Nebraska for 12 years. She also earned a bachelor's in secondary education and a secondary French endorsement from UNL and a master of arts in French from Middlebury College in Vermont and Paris.
Students nominating Nugent remarked that she ensures her students are served well-beyond the classroom by encouraging divergent thinking, helping students to grow and challenge themselves and others. "This is a quality that is greatly needed in the education field," the nomination states. "Her commitment to teaching future educators' cultural awareness and open-mindedness adds so much to the education program at Concordia."
Nugent said she was appreciative of the nomination that mentioned class discussions of cultural awareness because it's one of her passions.
"Let's keep more of that out there in the world," she said. "Let's learn about each other and from each other, and you can go make the world a better place. Thank you, God, for all the gifts He's given to you and to me."
Another nomination stated Nugent does her best to create a positive learning environment in her classroom.
"Dr. Nugent cares deeply about each individual in class and takes the time to get to know each one of us," one nomination stated. "She has our best interest in mind and wants all of us to be successful students and future educators. Dr. Nugent makes class fun, relaxing and inviting, but also keeps it structured in a good way by maintaining a class routine."