Dr. Jeffrey Blersch shares organ talent as part of the 500th Reformation Anniversary Celebration
Published by Concordia University, Nebraska 6 years ago on Fri, Nov 4, 2016 9:00 AM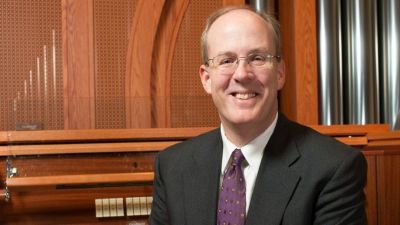 Concordia's Professor of Music, Dr. Jeffrey Blersch, will be featured in an organ recital on Sunday, Nov. 13, 2016, at 3 p.m. in the Recital Hall of the Music Center on campus.
Dr. Jeffrey Blersch will be performing an organ recital in conjunction with the 500th Reformation Anniversary Celebration at 3 p.m. on Sunday, Nov. 13, 2016, in the Music Center's Recital Hall on campus.
Dr. Blersch serves as professor of music at Concordia University, Nebraska, teaching Music Theory, Organ, Arranging and Orchestration and he directs Women's Chorale. He is also an active composer having more than one hundred compositions and collections published with Concordia Publishing House. Additionally, four of his original hymn tunes are included in the Lutheran Service Book and he has two compact disc recordings of his original works.
His recital is part of the 500th Reformation Anniversary Celebration. Blersch's recital is titled "Bach-athon 2016," a program consisting of works composed by J.S. Bach. The variety of pieces in the program will show numerous different sides of Bach's compositional styles and will showcase the organ in different ways.
"All of the pieces on the program have been favorites of mine for many years now and I am always excited for the opportunity to share music that I love to play," said Dr. Jeffrey Blersch. "I decided to perform an all-Bach program not only because of his masterful compositions, but also because he is known as one of the most prolific and accomplished cantors in the history of the Lutheran Church."
Blersch is a graduate of the Oberlin College Conservatory of Music where he received a degree in organ performance and music education. He went on to earn his Doctor of Music Arts in Organ Performance from the University of Michigan, Ann Arbor. Prior to his appointment at Concordia, Blersch served as Cantor of Trinity Lutheran Church in Illinois, Associate Professor of Music at Concordia University, Ann Arbor and as an elementary music specialist at the Brunswick City Schools in Ohio. He has been an active church musician since being appointed organist of Peace Lutheran Church in Ohio at age eight.
Additional information about the 500th Reformation Anniversary and Dr. Jeffrey Blersch's recital is available online at reformation.cune.edu.