Dixie Zabka to be named Outstanding Woman in Business by Concordia University
Published by Concordia University, Nebraska 3 years ago on Fri, Mar 15, 2019 11:44 AM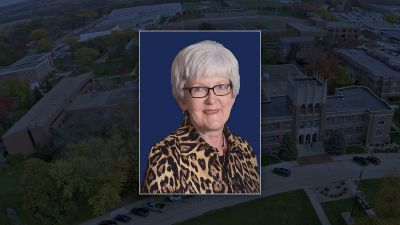 Dixie Zabka will be honored as the 2019 Outstanding Woman in Business at a luncheon April 12.
Dixie Zabka of Seward will be honored as the 2019 Outstanding Woman in Business by Concordia University, Nebraska at the 16th annual Women in Business luncheon April 12.
The luncheon, hosted by the Concordia University Business Club, celebrates and recognizes the achievements and servant leadership of businesswomen in Seward County.
The luncheon will take place Friday, April 12, at 11:30 a.m., in the Janzow Campus Center Cattle Conference room on Concordia's campus. Attendees are asked to register online by April 5 at cune.edu/wib. Tickets to the event are $15 online or $20 at the door. Proceeds will go toward scholarships to benefit outstanding female business students of Concordia University, Nebraska.
Zabka serves as a partner of the Zabka-Perdue Funeral Home in Seward. A native of Fullerton, Dixie earned her Bachelor of Science degree in Elementary Education from the University of Nebraska-Lincoln. She started in business as a teller at Twin City Bank in Minneapolis, Minnesota. After her husband, Greg, graduated from the University of Minnesota with a degree in mortuary science, they moved to Lincoln, where Dixie worked at Selection Research (now Gallup) for five years. The couple soon moved to Seward where Greg worked at Wood Brothers Mortuary and Dixie worked at the School District of Seward. The couple purchased the mortuary in 1998 and have since expanded it, opening a second funeral home in Dwight, Nebraska. In 2018, the Zabkas transferred ownership of the business to their associates, Brad and Jill Perdue.
Providing the keynote address will be Deb Burma of Columbus, an author at Concordia Publishing House. Burma has written several books, with her latest "Sip, Savor, and Drink Deeply: Receive God's Overflowing Gifts," published just last year. She travels the country speaking at conferences, retreats and other ministry events.
The Outstanding Woman in Business award is presented each year by Concordia University Business Club. Sponsors for the 2019 Women in Business luncheon are Cattle Bank & Trust, Hughes Brothers, Jones Bank, Memorial Health Care Systems, Sandhills Publishing, Air Force, Army, Assurity, Awe Salon, Celerion, Cobblestone Hotel & Suites, Cornerstone Bank, Edward Jones Investments, Gabriel, Burger & Else, Hackbart Chiropractic, Home Realty – The Underwood Team, H & S Plumbing, Heating and Air, Lutheran Church Extension Fund, Runza, Seward Smiles, Sid Dillon – Crete, Walmart and Wild Chiropractic & Acupuncture.