Diann Moore '13 serves her neighbors with love
Published by Concordia University, Nebraska 3 years ago on Mon, Aug 31, 2020 9:01 AM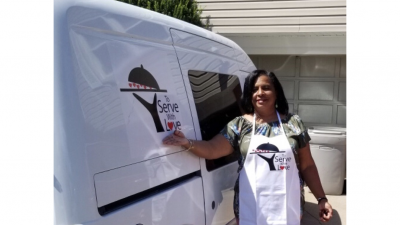 Diann Moore has started a food delivery service for her neighbors in Omaha "To Serve With Love."
Diann Moore knows the importance of a homecooked meal. She was raised on her family's cooking, and she continued the tradition with her own children. This summer, as Moore saw her neighbors furloughed due to the pandemic, some of them not knowing where their next meal would come from, she knew it was time to put her home cooking experience, and love for others, into action.
In June, Moore, a kindergarten teacher at Wakonda Elementary in Omaha, purchased a small delivery truck in which she delivers meals to the hungry. The truck, called "To Serve With Love" can be seen in Moore's Omaha neighborhood as she serves about 125 free meals weekly to her neighbors in need. This idea was something Moore had in the works for some time, but everything fell in to place this summer.
"God placed this idea on my heart about four years ago," Moore, a 2013 Concordia graduate, said, "I put it on my vision board and was busy with other parts of my life, but once COVID-19 hit, it freed up a lot of time for me. With people being furloughed and all the uncertainty, I felt the need and desire to not drag my feet and listen to God."
Moore prepares the meals in a health department-approved commercial kitchen at her church and then loads them into the truck to deliver. She has a team of volunteers who help her, especially now that classes in Omaha have resumed.
"The plan is to continue serving as long as there is a need," she said. "I have no plans to stop any time soon. The truck is funded by donations only and thus far, God has provided and will continue providing."
Moore's vision is to expand her meal delivery to additional locations in the future.