Debut of family-friendly Broadway at the Boulders show outdoors on Concordia's Holthus Family Plaza
Published by Concordia University, Nebraska 7 years ago on Fri, Apr 8, 2016 11:41 AM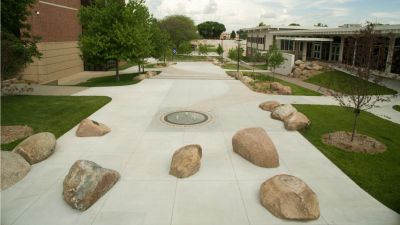 Concordia students will perform Broadway hits outside among the boulders of Concordia's Holthus Family Plaza.
Broadway at the Boulders is a new, family-friendly outdoor concert benefitting New Vision Renewable Energy. The performance features Concordia University, Nebraska's University A Cappella Choir, Brass Ensemble and student solos and duets. The 7 p.m. concert will be on the Holthus Family Plaza outside Janzow Campus Center April 17, 2016. The event is free, and the public is invited to attend.
"This should be a fun evening of some very familiar and well-loved tunes," said Director of Music Dr. Kurt von Kampen. "It is a bit of a departure from the A Cappella Choir's usual repertoire, but they have had a great time learning the music and look forward to an exciting evening of music making. Bring lawn chairs and blankets and pray for sunshine!"
The concert will feature music from "West Side Story," "Oliver," "Newsies," "The Sound of Music" and other musical and movie themes.
In the event of poor weather, the concert will be held in the Cattle Conference Room on the main level of Janzow Campus Center.
Members of the University A Cappella Choir and Brass Ensemble include (alphabetical by state, city, last name):
Cameron Christiansen, junior, Palmer, Alaska, Bass II
Joe Pierson, junior, Van Buren, Ariz., Bass I
Jacob Fink, sophomore, Long Beach, Calif., Bass I
Ryan Gross, senior, Riverside, Calif., playing the trumpet
Lindsay Sampson, junior, Tustin, Calif., Alto I
Abby Schellpfeffer, sophomore, Centennial, Colo., Alto II
Benjamin Leeper, sophomore, Falcon, Colo., Bass I
Meredith Locke, sophomore, Winter Haven, Fla., Soprano I
Hafeez Oladipo, freshman, Chicago, Ill., Bass II
Jacob Henson, sophomore, Herrin, Ill., Bass I
Matthew Kortze, sophomore, Rockford, Ill., Bass II
Sarah Krause, junior, Rockford, Ill., Soprano I
Alyssa Newton, PB, Rockford, Ill., Alto II
Sarah Mueller, freshman, Wheaton, Ill., Soprano II
Jennifer Reynolds, senior, Fort Wayne, Ind., Alto I
Jennifer Reynolds, senior, Fort Wayne, Ind., playing the trumpet
Cole Wohlgemuth, sophomore, Alton, Iowa, playing the euphonium
Matthew Gerhold, freshman, Atkins, Iowa, Tenor I
Emily Jensen, junior, Sioux City, Iowa, Soprano II
Luke Kaldahl, senior, Spencer, Iowa, Tenor II
Isaiah Armbrecht, freshman, Williamsburg, Iowa, Bass I
Nathanael Patron, freshman, North Newton, Kan., Tenor I
Christian Schultz, senior, Wamego, Kan., Bass II
Helena Dieckhoff, senior, Wichita, Kan., Soprano II
Austin Theriot, sophomore, Lake Charles, La., Bass II
Josiah Schultz, freshman, Bay City, Mich., playing the euphonium
Charlotte Mueller, junior, Frankenmuth, Mich., Alto II
Emily Sievert, sophomore, Frankenmuth, Mich., Soprano I
Hannah Davis, freshman, Coon Rapids, Minn., Soprano II
Albert Boldt, freshman, Hewitt, Minn., Tenor I
Rebecca Trautman, senior, Moorhead, Minn., Alto II
Micah Holten, sophomore, Nicollet, Minn., Tenor II
Mason Koeritz, junior, Northrop, Minn., Bass I
Cadence Klemp, sophomore, Winona, Minn., Soprano II
Benjamin Hayter, junior, Concordia, Mo., Tenor II
Emily Kollbaum, junior, Concordia, Mo., Soprano II
Vanessa Marsh, freshman, Concordia, Mo., Soprano I
Timothy Mehl, sophomore, Concordia, Mo., Bass II
Caleb Worral, sophomore, Fargo, N.D., Bass II
Talitha Elbert, senior, Albuquerque, N.M., Soprano II
Ann Spilker, sophomore, Ashland, Neb., Alto I
Mallory Parrish, sophomore, Auburn, Neb., Soprano II
Megan Sparling, senior, Columbus, Neb., Soprano II
Paige Stadler, freshman, Columbus, Neb., Soprano II
Jacob Tuma, senior, Cordova, Neb., Tenor II
Naomi Ristvedt, senior, Crete, Neb., Alto I
Nathan Klaumann, freshman, Fairbury, Neb., Tenor II
Lauren Staehr, senior, Grand Island, Neb., Alto II
Jonathan Rippe, freshman, Gretna, Neb., Tenor II
Britnee Fear, freshman, Hershey, Neb., playing the tuba
Audrey Rich, freshman, Lincoln, Neb., Alto II
Clara Rich, senior, Lincoln, Neb., Alto I
Erika Troester, senior, Lincoln, Neb., Alto I
Stephanie Coley, senior, Mitchell, Neb., Alto I
Micah Most, freshman, Ogallala, Neb., Tenor II
Tyler Miles, junior, Omaha, Neb., Bass II
Stephanie Van Blair, senior, Omaha, Neb., Alto II
Jazmyn Yates, freshman, Omaha, Neb., Soprano II
Laura Hedstrom, junior, Oxford, Neb., Alto I
Beth Williams, senior, Pierce, Neb., Alto II
Joshua Brumm, freshman, Seward, Neb., Bass I
Adam Meirose, senior, Seward, Neb., Bass I
Kayleah Moravec, freshman, Seward, Neb., Soprano I
Karl Rovey, senior, Seward, Neb., Bass II
Elisha Scheiber, sophomore, Seward, Neb., Alto I
Andrea von Kampen, senior, Seward, Neb., Soprano I
Lauren Wilcox, sophomore, Seward, Neb., Soprano II
Joel Ristvedt, sophomore, Utica, Neb., playing the French horn
Eric Souer, junior, Venetia, Pa., Tenor I
Grace Woelmer, sophomore, Allen, Texas, Alto II
Timothy Rasch, freshman, Denton, Texas, Bass II
Emma Gremmer, freshman, New Braunfels, Texas, Alto II
Aaron Strackbein, junior, San Antonio, Texas, Bass II
Victoria Welter, junior, Slinger, Wis., Soprano I