Cross of Christ church, Aurora, dedicates liturgical art
Published by Concordia University, Nebraska 11 years ago on Fri, Oct 22, 2010 6:39 PM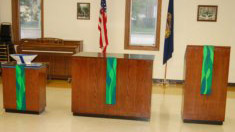 The baptismal font, altar and pulpit in the community center where Cross of Christ meets were designed by Concordia student, Josh Duncan.
Worship furnishings created through Concordia's Center for Liturgical Art were dedicated at Cross of Christ Lutheran Church in Aurora, Neb., Oct. 24. The service, held at the Bremer Community Center, officially welcomed Cross of Christ as a church within the Nebraska District of The Lutheran Church–Missouri Synod.
The new worship furnishings were made by Concordia student Joshua Duncan. Duncan, a junior from Hickman, Neb., designed and fabricated a lectern, altar and baptismal font with interchangeable colored mosaics for the congregation.
Duncan's work was part of an internship in ecclesiastical art, and he was assisted by professor of art, Phillip Perschbacher, and managing artist for the CLA, Mark Anschutz. The CLA works with architects, liturgical consultants and master artisans in the design of worship space and the creation of ecclesiastical art.
Rev. Russell Sommerfeld, president of the Nebraska District of the LCMS, served as the liturgist, and Cross of Christ vacancy pastor Rev. Kevin McReynolds preached. Music was led by Tetsuya Sugita, minister of music at Peace Lutheran Church in Grand Island, Neb. A blessing of liturgical appointments, installation of congregational officers and the official welcome of the church to the Nebraska district all were part of the service.