Concordia's Vocal Jazz Choir to tour
Published by Danielle Luebbe 11 months ago on Thu, Apr 28, 2022 4:10 PM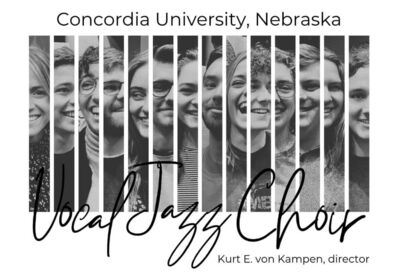 Concordia University, Nebraska's Vocal Jazz Choir will tour the Midwest May 7-11, 2022.
Concordia University, Nebraska's Vocal Jazz Choir will travel to Missouri, Indiana and Iowa for its performance tour May 7-11.
Under the direction of Dr. Kurt von Kampen, Concordia University Nebraska's Vocal Jazz Choir, a 14-voice select ensemble which performs standard jazz and pop-influenced choral music, will perform in five cities on their tour. Concert sites include Kansas City, Missouri; St. Peters, Missouri; Indianapolis, Indiana; Fort Wayne, Indiana and Cedar Falls, Iowa.
The choir, comprised of mostly music majors, has performed concerts and school assemblies throughout the Midwest including performances at the Nebraska Music Educator's annual conference, the Columbus NCDA Jazz Festival, The Creston, Iowa FoxFest and in the historic Sheldon Concert Hall in St. Louis, Mo.
Concerts have featured performances of pieces such as Jerome Kern's famous ballad "Smoke Gets In Your Eyes," the Toto classic "Rosanna," several Broadway musical numbers including "The Song of Purple Summer" from Spring Awakening and "Singin' in the Rain" from the musical of the same name, and other well-known hits spanning nearly eight decades.
Von Kampen earned a bachelor's degree in music from Concordia University, Nebraska, a master's degree in choral conducting from Oakland University and a doctorate in choral music education from the University of Nebraska.
Admission to concerts is free and open to the public.
Members of the Vocal Jazz Choir include (in alphabetical order by last name):
Jill Bultemeier, senior, Texarkana, Texas
Aaron Christiansen, senior, Palmer, Alaska
Hannah Cmeyla, junior, Bay City, Mich.
Samuel Dunbar, freshman, Utica, Neb.
Kirsten Horne, freshman, Random Lake, Wis.
Jessica Landrey, sophomore, Seward, Neb.
Jonathan Landrey, junior, Seward, Neb.
Olivia Leising, junior, Arapahoe, Neb.
Christoph Marsh, junior, Concordia Mo.
Cecilia Minchow, senior, Lincoln, Neb.
Nathan Pennington, junior, Lincoln, Neb.
Jacee Pfeifer, senior, Holdrege, Neb.
Isaac Weander, sophomore, Norfolk, Neb.
Caleb Zeckzer, sophomore, New Haven, Ind.
Student Instrumentalists:
Jayson Klaumann, junior, Fairbury, Neb.
Calvin Rohde, sophomore, Reed City, Mich.
Performance Tour Itinerary
Saturday, May 7
Kansas City Lutheran High School
12411 Wornail Rd.
Kansas City, Mo., 64145
Concert time: 7 p.m.
Sunday, May 8
Calvary Lutheran Church
7500 Oak St.
Kansas City, Mo., 64114
Sunday Services: 8 a.m. and 11 a.m.
Lutheran High School
5100 Mexico Rd.
St. Peters, Mo., 63376
Concert time: 7 p.m.
Monday, May 9
Indianapolis Lutheran High School
5555 S. Arlington Ave.
Indianapolis, Ind., 46273
Concert time: 7 p.m.
Tuesday, May 10
Concordia Lutheran High School
1601 St. Joe River Drive
Fort Wayne, Ind., 46805
Concert time: 7 p.m.
Wednesday, May 11
Immanuel Lutheran Church
4820 Oster Parkway
Cedar Falls, Iowa, 50613
Concert time: 7 p.m.