Concordia's speech team looks to carry momentum into second semester
Published by Concordia University, Nebraska 2 years ago on Thu, Dec 19, 2019 9:12 AM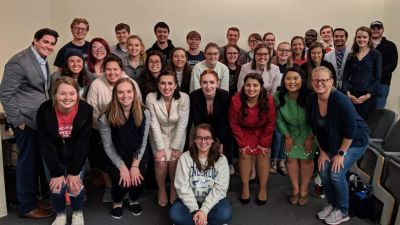 The Concordia speech team has qualified four students for the national tournament April 4-6 in Santa Ana, California, with several more on the verge of qualifying during the team's second semester tournaments.
Concordia University, Nebraska's speech team continues to build on its No. 23 national finish last spring, as four students have already qualified for the national tournament held in April.
Sophomore Philomena Williams has qualified in three events – Poetry, Program Oral Interpretation and Dramatic Interpretation for the American Forensic Association's National Individual Events Tournament (AFA-NIET) taking place April 4-6 in Santa Ana, California. Sophomore Alia Hurst has also qualified for the national tournament in the Prose and Informative Speech events, while junior Jacob Garrison and senior Adam Hiles have qualified in the Duo Interpretation category.
"The first semester of the 2019-20 season for the speech team has been an extreme success," said Joe Davis, head speech team coach. "We are building off of our competitive progress from last year and are seeing tremendous benefits from our unique participation system."
In addition to the four students already qualified, Davis said there are several more students who have won tournaments in their events and are close to qualifying for the AFA-NIET tournament.
"Our students root their speeches in subject matters they feel both challenged and comforted by," said Davis, "allowing them to continue raising their individual competitive bars as well as creating an atmosphere where all team members can thrive."
The Concordia speech team's second semester tournament schedule includes:
Jan. 18-19: Sleet and Snow Invitational, Concordia University, Nebraska
Jan. 24-26: Kansas in Nebraska Swing, Kansas State University
Feb. 1-3: Border Wars Swing (Pt. 1&2), Kansas Wesleyan University
Feb. 15: NIFA State Tournament, University of Nebraska-Omaha
Feb. 21-23: Bronco Bash Swing (Pt. 1&2), Hastings College
Feb. 29-March 1: Battle for the Capitol (Pt. 1&2), University of Nebraska-Lincoln