Concordia's premier instrumental ensemble performs across Nebraska
Published by Concordia University, Nebraska 5 years ago on Fri, Feb 5, 2016 9:36 AM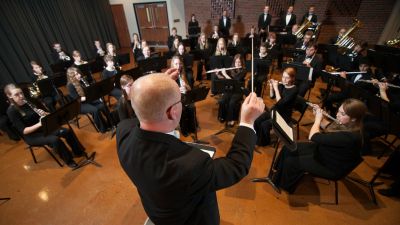 Concordia's University Symphonic Band will perform in Seward, Nebraska, Feb. 21, 2016, at St. John Lutheran Church at 3 p.m.
The Concordia University, Nebraska University Symphonic Band will perform for the students, faculty and staff at its four Lutheran high school partner schools in Nebraska, as well as for the community in Seward, Nebraska, in mid-February. The concert at St. John Lutheran Church in Seward, Nebraska, is free and open to the public on Feb. 21, 2016, at 3 p.m.
"We are excited to perform for the Seward and surrounding communities again this spring and to connect with the students at all four of our partner high schools in Nebraska," said Concordia's Assistant Professor of Music Andrew Schultz. "This is a great opportunity for us to share the love of Jesus with high school students through music."
Concordia's partner schools in Nebraska are Lincoln Lutheran High School in Lincoln, Heartland Lutheran High School in Grand Island, Northeast Lutheran High School in Norfolk and Concordia High School in Omaha.
Schultz conducts the ensemble, which is open to all Concordia students by audition each year.
The University Symphonic Band formed in 1906 and is the oldest continuing musical organization at Concordia. The ensemble places emphasis on sacred, multicultural and contemporary literature, as well as traditional concert band repertoire.
The band tours a part of the United States each year and toured internationally to China in the summer of 2007.
Performers include (alphabetically by state, city and last name; international at end):
Ryan Gross, senior, Riverside, Calif., trumpet
David Krueger, freshman, Aurora, Colo., alto saxophone
Naomi Bauer, freshman, Cascade, Colo., oboe
Paul Hammes, freshman, Colorado Springs, Colo., bassoon
Cassie Nagel, junior, Lafayette, Colo., flute
Paul Symes, freshman, Woodland Park, Colo., clarinet
Brianna Bossle, junior, Coral Springs, Fla., percussion
Sydney Heimann, junior, Galesburg, Ill., trombone
Micah Schalow, freshman, Rockford, Ill., trombone
Jonathan Grant, freshman, Waterloo, Ill., trumpet
Josh Wudtke, senior, Collinsville, Ill., percussion
Karina Keating, junior, Woodstock, Ill., flute
Jennifer Reynolds, senior, Fort Wayne, Ind., trumpet
Cole Wohlgemuth, sophomore, Alton, Iowa, euphonium
Charity Espinosa, sophomore, Clarinda, Iowa, euphonium
Garion Consier, freshman, Churdan, Iowa, trumpet
Dorian Doremus, junior, Grimes, Iowa, percussion
Hannah Weber, senior, Manchester, Iowa, trombone
Amanda Segebart, freshman, Sioux City, Iowa, clarinet
Janelle Adams, sophomore, Andover, Kan., flute
Kaleb Weinkauf, freshman, Basehor, Kan., alto saxophone
Elizabeth Frakes, freshman, Ellinwood, Kan., flute
Katie Wehling, freshman, Liberal, Kan.
Caleb Wehling, junior, Liberal, Kan., flute and percussion
Leah Werling, freshman, Solomon, Kan., clarinet
Kelsey Adcock, sophomore Wamego, Kan., clarinet
Christian Schultz, senior, Wamego, Kan., percussion
Molly Goltl, sophomore, Wichita, Kan., alto saxophone
Josiah Schultz, freshman, Bay City, Mich., euphonium
Charlotte Mueller, junior, Frankenmuth, Mich., alto saxophone
Megan Suter, junior, Owatonna, Minn., percussion
Alexis Burrow, freshman, Concordia, Mo., trumpet
Derek Theiss, senior, Farrar, Mo., tenor saxophone
Todd Brueckner, junior, Perryville, Mo., oboe
Karl Rovey, senior, Springfield, Mo., trumpet
Sarah Brutlag, junior, St. Louis, Mo., flute
Joel Marquardt, senior, Denver, N.C., percussion
Erika Borslien, junior, West Fargo, N.D., clarinet
Andrea Leising, senior, Arapahoe, Neb., bass clarinet
Megan Seim, junior, Chapman, Neb., clarinet
Courtney Burma, senior, Columbus, Neb., clarinet
Dane Pedersen, freshman, Columbus, Neb., tuba
Paige Stadler, freshman, Columbus, Neb., trombone
Naomi Ristvedt, senior, Crete, Neb., flute
Erik Hart, sophomore, Fairbury, Neb., trumpet
Nathan Klaumann, freshman, Fairbury, Neb., percussion
Caleb Staehr, freshman, Grand Island, Neb., baritone saxophone
Britnee Fear, freshman, Hershey, Neb., tuba
Brooke McNiel, sophomore, Holdrege, Neb., euphonium
Kara Blasé, junior, Hordville, Neb., flute
Emma Haas, freshman, Lincoln, Neb., percussion
Audrey Rich, freshman, Lincoln, Neb., horn
Hannah Rose, junior, Louisville, Neb., clarinet
Angelica Blomenberg, junior, Norfolk, Neb., oboe
Cara Colligan, sophomore, Norfolk, Neb., clarinet
Cassie Boeka, junior, North Platte, Neb., trumpet
Katherine Draucker, freshman, Ogallala, Neb., flute
Micah Most, freshman, Ogallala, Neb., clarinet
Jazmyn Yates, freshman, Omaha, Neb., flute
Lydia Jeppesen, freshman, Pleasant Dale, Neb., trumpet
Micah Jeppesen, sophomore, Pleasant Dale, Neb., trombone
Joshua Wendland, freshman, Raymond, Neb., tuba
Jordan Schut, junior, Scribner, Neb., tenor saxophone
Cole Berry, junior, Seward, Neb., trombone
Annie Wunderlich, freshman, Seward, Neb., flute
Melody Niemoth, freshman, South Bend, Neb., clarinet
Joel Ristvedt, sophomore, Utica, Neb., horn
Caleb Ristvedt, freshman, Utica, Neb., trombone
Madeline Luehr, freshman, Wood River, Neb., alto saxophone
Nick Harding, senior, Yerington, Nev., euphonium
Allison Seeliger, sophomore, Edmond, Okla., clarinet
Alberto Barrientos, freshman, Austin, Texas, tuba
Krista Schmidt, sophomore, Giddings, Texas, string bass
Rachel Dorn, freshman, Houston, Texas, percussion
Mikayla Eifert, sophomore, Houston, Texas, trombone