Concordia's fundraising campaign reaches historic $65 million goal
Published by Concordia University, Nebraska 3 years ago on Fri, Feb 14, 2020 3:06 PM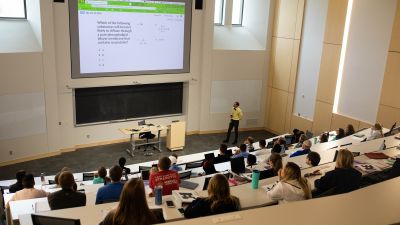 Dr. Kyle Johnson, assistant professor of biology, gives a lecture in the Dunklau Center's Pohlman Family Lecture Hall Aug. 26.
As of Jan. 31, Concordia University, Nebraska's fundraising campaign, Answering The Call, has become the most successful campaign in the university's history after meeting its initial $65 million goal nearly 18 months before it concludes.
"God is certainly doing awesome things here at Concordia University, demonstrated again through those faithful partners who have so generously supported Concordia so far during Answering The Call," said Rev. Russ Sommerfeld, Concordia interim president. "To have already met the campaign's stated goal of $65 million is such a magnificent blessing from the Lord! These great gifts are so important to the university, providing tremendous resources that enable Concordia to thrive and excel as we deliver our distinctive Lutheran education to our students. I cannot wait to see what lies ahead!"
The resources raised through the campaign are funding four key initiatives —Science and Business, Agriculture, For the Church and Our Promises of a Lutheran Education. These gifts are providing facilities, student scholarships, academic program resources, mission and service opportunities, and endowments that will provide ongoing support in the future.
"Throughout its history, Concordia has been blessed by visionary and generous people of faith," said Kurth Brashear, vice president for institutional advancement. "In the first years, they donated land for our campus. Now, more than 9,100 households have partnered, in an unprecedented way, with Concordia to open the Dunklau Center, establish our agricultural science program, equip teachers and workers for the Church and ensure that Concordia delivers on our promises of a Lutheran education. These are great achievements that will only strengthen our ability to equip students for God's church and world."
Concordia's newest building, the Dunklau Center for Science, Math and Business, is a key focus of the Science and Business initiative. The $26.5 million building, featuring 88,000 square feet of state-of-the-art technology, was completed in January when the business, math and computer science wing opened for classes. The science wing of the facility opened in August 2019. The entire facility will be funded by donors.
The historic campaign is co-chaired by Dr. Doug and Denise Tewes. The couple said they are honored to help lead the campaign's fundraising efforts because of the impact the university has had on their family.
"Multiple generations of our family have been blessed by Concordia in so many ways, including many who are alums," said Doug and Denise Tewes. "We are honored to chair this historic campaign because we know the real importance of a Concordia education—to encounter and witness Jesus Christ. We continue to be amazed by the great generosity of Concordia's alumni and friends, and by God's work through them. Thank you to them and thanks be to God!"
The campaign will conclude in June 2021.
For more information about the campaign, visit cune.edu/answer.