Concordia's Center for Liturgical Art installs mosaic at Valparaiso University
Published by Concordia University, Nebraska 9 years ago on Fri, May 10, 2013 6:05 PM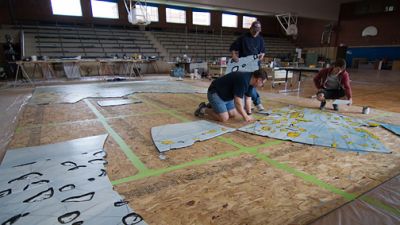 The Center for Liturgical Art at Concordia University, Nebraska, created a massive mosiac, 31 feet long by 16.5 feet tall, which was installed in the Welcome Center at Valparaiso University in Indiana. The mosaic, titled "Lightfall," was inspired by Psalm 36:9 and Valparaiso's motto: "In luce tua, videmus lucer," "In your light, we see light."
The mosaic was designed by Mark Anschutz, artist-in-residence at the Center for Liturgical Art, and is the largest piece of art the CLA has ever created. Anschutz had been working on "Lightfall" since late 2012 along with senior Evan Balleweg, an ecclesiastical and liturgical art major and marketing intern at the CLA.
The design of the piece ties closely with the mission and environment of Valparaiso, said Anschutz.
"Each mosaic tile represents the character of Valparaiso: excellence, learning through service, community, thoughtful leadership and personal journeys," he said. "The elements in concert with the overall composition will inspire people to see themselves as empowered participants in the sharing of God's love in the lives of others."
Balleweg, who has been working with Anschutz and the CLA since 2009, designed the presentation material and mock-ups of the mosaic for the CLA to present to Valparaiso. He then turned the rough sketches and paintings into computerized drawings so that each piece could be enlarged and cut out of Komatex, a type of colored PVC vinyl. Balleweg has also helped texture the shapes, paint and apply finishes to the final piece.
"It is inspiring to think that this artwork may very well be on this earth much longer than I am," Balleweg said. "It is always a humbling experience to be able to work on these types of projects."
The CLA installed the mosaic in the Valparaiso Welcome Center in the summer of 2013.