Concordia's Cantamus Women's Choir and Male Chorus present spring concert
Published by Concordia University, Nebraska 1 year ago on Fri, Apr 5, 2019 11:17 AM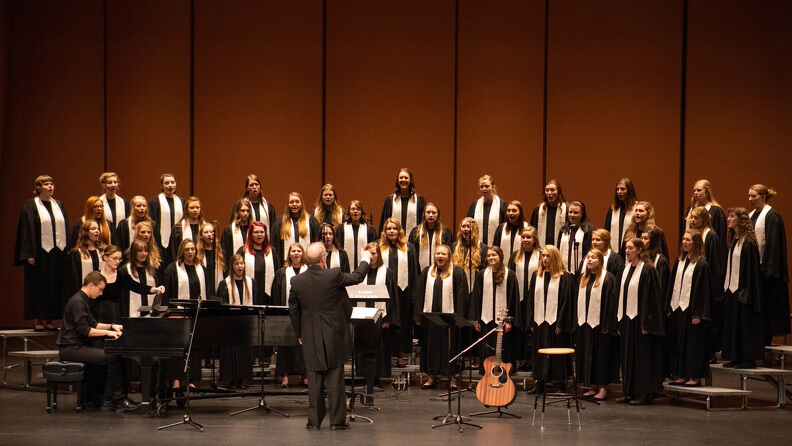 Concordia University, Nebraska's Cantamus Women's Choir and Male Chorus will perform a joint spring concert 4 p.m. Sunday, April 14, at St. Gregory the Great Seminary in Seward.
The program includes a variety of music from spirituals to congregational singing and, of course, choral music. A few of the pieces to be performed are "Adoramus te, Christe" by Palestrina, "Sing Unto God" from George Frederick Handel's Judas Maccabeus, "You Are Mine" by David Haas as well as several pieces arranged and composed by Concordia professor Dr. Jeffrey Blersch, including the premier of "Herald of Good News."
"It's always very exciting to be able to premier a new work," said Blersch, who directs the Cantamus Choir. "This latest piece was commissioned by Concordia Publishing House in honor of their 150thanniversary this year and is based on Isaiah 40:9-11."
The auditioned ensembles consist of 45 women and 21 men representing a wide range of academic disciplines. The Cantamus Choir is directed by Blersch and the Male Chorus is conducted by Paul Soulek.
Members of the University Cantamus Women's Choir (listed alphabetically by state, city and then last name) include:
Dorothy Cook, freshman, Eagle River, Alaska, alto I
Sarah Huhn, senior, Valley Center, Calif., soprano II
Jasmine Cody, freshman, Alamosa, Colo., alto I
Erin Johnson, sophomore, Brighton, Colo., soprano II
Joanna Sherrill, freshman, Lakewood, Colo., alto I
Alia Brand, freshman, Longmont, Colo., soprano II
Janis Wagner, freshman, Avon, Ind., alto II
Morgan Consier, senior, Holstein, Iowa, soprano I
Elizabeth Ericksen, senior, Le Mars, Iowa, soprano I
Emma Armbrecht, freshman, Williamsburg, Iowa, alto I
Mikayla Lowe, freshman, Atchison, Kan., alto I
Jenna Fredrickson, sophomore, Concordia, Kan., alto II
Olivia Johnson, junior, Kansas City, Kan., alto I
Rachel Krome, junior, Fairmont, Minn., soprano I
Whitney Borchardt, senior, Henning, Minn., alto I
Hope Katherine Clark, freshman, Montrose, Minn., soprano II
Rachel Eaton, sophomore, Carl Junction, Mo., soprano II
Amanda McDowell, junior, Columbia, Mo., soprano I
Britney Lewis, freshman, Lee's Summit, Mo., soprano II
Grace O'Neal, freshman, Spirit Lake, Iowa, soprano II
Alison Coomer, junior, Wentzville, Mo., soprano I
Danae Welling, junior, Ashland, Neb., soprano I
Rebekah Henschen, freshman, Bancroft, Neb., soprano II
Allison Story, freshman, Clay Center, Neb., alto II
Autumn Johnson, freshman, Fremont, Neb., alto II
Marlaena Sucha, freshman, Kearney, Neb., soprano I
Allana Blakeman, junior, Lincoln, Neb., soprano II
Christina Merril, sophomore, Lincoln, Neb., alto II
Chelsea Irwin, senior, Lincoln, Neb., alto I
Anna Ramsdell, freshman, Milford, Neb., alto I
Arianna Rathke, senior, Norfolk, Neb., alto I
Stephanie Barry, junior, Omaha, Neb., alto II
Shelby Betterton, freshman, Omaha, Neb., alto II
Morgan Brumm, sophomore, Seward, Neb., alto II
Malia Rolf, freshman, Seward, Neb., soprano II
Shelby Todd, sophomore, Staplehurst, Neb., alto II
Rebecca Hoffschneider, junior, Utica, Neb., alto I
April Bayer, senior, West Point, Neb., alto I
Kacy Meyer, junior, Jenks, Okla., soprano I
Allison Taylor, junior, Oklahoma City, Okla., alto I
Katherine (Faith) Trempala, Carrollton, Texas, soprano II
Katerina Fuller, junior, Dallas, Texas, alto I
Cristina Sanchez, sophomore, La Grange, Texas, alto II
Victoria Cameron, junior, Kent, Wash., soprano II
Grace Huesmann, freshman, Jackson, Wis., soprano I
Members of the Male Chorus include:
Matthew Murphy, junior, Colorado Springs, Colo., bass II
Garion Consier, senior, Churdan, Iowa, tenor II
Isaac Golke, senior, Okoboji, Iowa, tenor II
John Palmer, sophomore, Offerle, Kan., bass I
Broderick Schofield, freshman, Sylvan Grove, Kan., bass I
Brett Mueller, freshman, Concordia, Mo., tenor II
Joshua Marlatt, freshman, Minnetrista, Minn., tenor II
Ethan Symmank, senior, Woodbury, Minn., tenor I
Dane Wolfgram, sophomore, Bismarck, N.D., bass II
Dane Pedersen, senior, Columbus, Neb., bass II
Zachary Staehr, sophomore, Grand Island, Neb., tenor I
Christopher Warneke, junior, Hastings, Neb., bass I
Aaron Ferguson, junior, Hyannis, Neb., bass I
Daniel Duffy, freshman, Kenesaw, Neb., tenor I
Stephen Duffy, freshman, Kenesaw, Neb., bass I
Jacob Schielke, sophomore, Austin, Texas, tenor I
Aaron Jackson, sophomore, Palestine, Texas, bass I
Lewis Kasparek, junior, The Woodlands, Texas, bass II
Brennan DeForest, senior, West Jordan, Utah, tenor II
John Kastner, senior, Henrico, Va., bass I
Zebadiah Uden, sophomore, Cedarburg, Wis., bass II