Concordia's anniversary celebrated at National Day of Prayer luncheon
Published by Concordia University, Nebraska 4 years ago on Wed, Apr 17, 2019 12:19 PM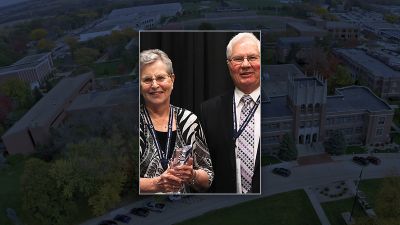 Dr. Judy and Dr. Bill Preuss will be featured speakers at the Seward's National Day of Prayer luncheon May 2.
The annual Seward National Day of Prayer luncheon will salute the 125th anniversary of Concordia University with the theme "Love One Another!" Concordia emeriti professors Dr. William (Bill) Preuss and Dr. Judy Preuss will be featured speakers at the luncheon May 2 at the Seward Civic Center.
The annual event is coordinated by the Seward Ministerial Association, assisted by the GFWC Seward Woman's Club and the Seward Rotary. The day's program of events will feature a noon luncheon prepared by the members of the GFWC Seward Woman's Club and music by the Seward St. John Lutheran School Youth Chamber Choir, directed by St. John Lutheran Church's music director Paul Soulek. The luncheon will be followed by a message on prayer given by Bill and Judy, along with opportunities for group prayer.
Bill and Judy met during their studies at Concordia Teachers College, now Concordia University, Nebraska, both earning their bachelor degrees in 1960. Bill received his master's in elementary education administration in 1961 and his doctorate in educational psychology and administration in 1967 from the University of Nebraska-Lincoln. He was called as a professor at Concordia in 1964. Judy joined him as part of Concordia's faculty after teaching in the area and completing her master's in reading in 1974 from Concordia and her Ph.D. in administration, curriculum and instruction from University of Nebraska-Lincoln in 1980. The two greatly contributed to Concordia's programs, as Bill developed what is now the freshman advising program and redesigned the student teaching field experience model, while Judy developed the special education program, served as an interim department chair and eventually served as Dean of Education until her retirement in 2002.
The annual Seward National Day of Prayer Community Luncheon will be held Thursday, May 2, at noon at the Seward Civic Center, 616 Bradford Avenue, in the banquet hall located on the lower level. Luncheon tickets may be purchased in advance for $6 at the Seward County Chamber and Development Partnership office, local banks and from committee members.