Concordia welcomes alumni at Homecoming and Alumni Reunion Weekend
Published by Concordia University, Nebraska 7 years ago on Fri, Sep 19, 2014 11:27 AM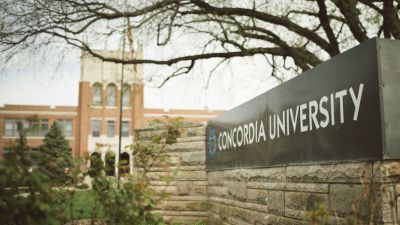 The 2014 Homecoming and Alumni Reunion Weekend welcomed alumni to Concordia's campus Oct. 3-5. The weekend also included a celebration of Concordia's theatre program.
"Our Homecoming and Alumni Reunion Weekend is a special time for the university because it encourages our alumni to return home, some year after year and some for the first time after many years," said Director of Alumni and University Relations Adam Hengeveld. "We are thankful when alumni renew their connection and relationship with Concordia and with other alumni."
The theatre program celebration included an open house at the Marxhausen Gallery, highlighting Concordia's stage design history through an exhibit called "Offstage: A Retrospective of Theatre Design and Technology at Concordia University." The exhibit was open Friday from 1 to 4 p.m. The Theatre Reunion Alumni Show began Saturday at 7:30 p.m.in Weller Hall auditorium.
A dedication of The Vern R. Harnapp Family Fountain began Saturday at 10:30 a.m. in the outdoor plaza area just north of the Janzow Campus Center.
A free homecoming fair with games and other activities took place Saturday from 11 a.m. to 1 p.m. at Brommer Drive behind the Thom Leadership Education Center.
A pre-game tailgate meal was available to Homecoming attendees and the public at 11 a.m. in the Janzow Campus Center cafeteria. Concordia's football game versus Dordt College kicks off at 1 p.m. in Bulldog Stadium.
During the weekend, Concordia honored several reunion classes as well as selected alumni who have demonstrated excellent service in the church and world. Alumni honorees included:
Church Worker Alumnus of the Year: Michael Held HS '62 CO '66
Young Alumna of the Year: Sarah Trinklein '07 Salzberg
Partners in Mission & Ministry Award: Martin '00 & Christin Maxson '00 Senechal
Church Leadership in Outreach Award: Chara Sype '99
Lay Worker of the Year: Chad Thies '00
Friends of Concordia Award: Donald '70 & Cheryl Kahle '70 Klein
Lifetime Service Award: Luther '68 & Nancy Goethals Klenke, Richard '62 & Mira Roeder '69 Wiegmann
Honorary Alumni Award: Duane & Doris Risch Clatanoff
Concordia also inducted several former Bulldog athletes into the Concordia Athletic Hall of Fame:
Becky Ernstmeyer '97 Loewe
Mindy Evans '99 Miller
Gene Faszholz '58
Stan Schlueter (served Concordia 1966-2009)
2002-03 women's basketball
Visitors to campus were invited to explore campus buildings; visit with faculty, staff and students; enjoy meals; attend event receptions and cheer on the Bulldogs at athletic events.
Visit cune.edu/ homecoming for information.