Concordia University Regional Ambassadors Cory and Becke Smith
Published by Olivia Dunklau 1 week ago on Mon, Mar 13, 2023 4:23 PM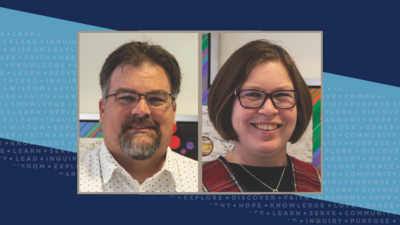 Concordia University, Nebraska has a number of regional ambassadors around the United States that represent the university at events, speak to high school students and others about what's going on at Concordia Nebraska and more. Husband and wife duo Cory '99 and Becke '97 Smith represent the university in the state of Texas.
Cory Smith and his wife Becke both attended Concordia University, Nebraska. Cory graduated in 1999 after studying elementary education and preparing to become a DCE. Becke graduated in 1996 after studying secondary education and language arts. The pair fondly recalls their time on the university's Seward campus.
"It was a Christ-centered education where real relationships were formed between both students and professors," said Cory. "We loved the faith focus in our classes."
The couple has been working together to serve the university as regional ambassadors for four years. In addition to representing Concordia Nebraska at conferences and events, they also network with a variety of Texas churches, high schools and students, coordinating visits to Concordia Nebraska through the university's "road trip" program.
Becke said they have enjoyed meeting teens from all over Texas – most from the Dallas/Fort Worth area – who are interested in learning more about Concordia Nebraska. She said they have worked with Dallas Lutheran School in Dallas, Faith Lutheran School in Plano, Concordia Lutheran in Tomball, and Lutheran South Academy and Lutheran North in the Houston area.
Cory and Becke both said it is a joy to load vans with students – and sometimes their parents – to head north to Seward to see Concordia Nebraska in person. These "road trip to Concordia" events feature many opportunities to experience the faith-focused and friendly Concordia campus and explore the many worship, academic and extracurricular opportunities that the university has to offer.
The Smiths said quite at least eight of the students they have taken on road trips have chosen to attend Concordia Nebraska.
"The last few years have offered us a great opportunity to share all that we love about Concordia Nebraska," said Cory. "We firmly believe that if we can get students to the campus, then they, too, will find things about Concordia they love. We always tell students that they each have a Concordia that is a great fit for them. Bringing them to campus allows them to see if that great fit is Concordia Nebraska."
Concordia University, Nebraska currently has regional ambassadors in the St. Louis area, the Rockford, Illinois area, Wisconsin, Colorado, Nevada and Texas. Learn more about road trips and Concordia Nebraska visit days at https://www.cune.edu/visit-campus/visit-day