Concordia University Regional Ambassador Kelly Shaver
Published by Olivia Dunklau 1 month ago on Wed, Feb 1, 2023 2:00 PM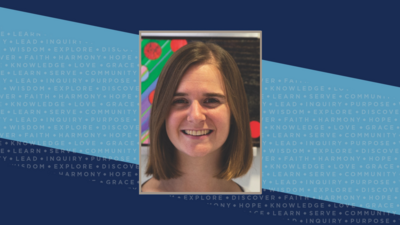 Concordia University, Nebraska has a number of regional ambassadors around the United States that represent the university at events, speak to high school students and others about what's going on at Concordia Nebraska and more. Kelly Shaver '12 represents the university in the Rockford, Illinois area and Wisconsin.
Kelly Shaver has represented Concordia University, Nebraska as a regional ambassador for more than three years. She speaks to students and others in northern Illinois, southern Wisconsin and works with Rockford Lutheran High School and Walther Christian Academy in Illinois, Sheboygan Lutheran High School, Living Word High School, Milwaukee Lutheran High School, Martin Luther High School, Lake Country High School, and Racine Lutheran in Wisconsin. Last year, she also began traveling to Trinity Lutheran High School, Lutheran High of Indianapolis, and Concordia Lutheran in Fort Wayne.
Kelly graduated from Concordia Nebraska with a degree in secondary education with a focus on Spanish and history. She recalls her time on campus as a student fondly.
"The tight-knit, Christian community is unlike any other," she said. "From classmates to professors, cafeteria workers to community members, you know you're in a place that supports you because of the common hope of the Gospel impacting each of our lives."
Like other regional ambassadors around the county, Kelly periodically brings students to the Concordia Nebraska campus as part of the university's "Road Trip to Concordia" campus visit experience.  
"Students from our regions have the opportunity to visit campus with other students from the region," she explained. "However, they also get to interact with other prospective students from other regions and begin building a community of Bulldogs before even enrolling! It's a fun experience to see all the ways God works to bring people together for His purpose. The laughter and memories bond them together in ways that a typical visit day can't."
While Kelly said she doesn't feel that she is the main reason any student chooses to attend Concordia Nebraska, she said she appreciates the opportunity to introduce them to the Bulldog family and being to form intentional connections with professors, staff, alumni and other potential students. 
"This helps students feel more comfortable about attending a school that's further away from home," she explained. "The Ambassador program has provided students more exposure to Concordia Nebraska when many have only considered schools closer to home. By hosting the road trips, we provide another chance to help them consider a solid, Lutheran education surrounded by students who will uplift them during the challenges that come in college. A college setting like this is priceless, and it will remind them of the One who is with them through everything and who gave His life for our redemption."
Concordia University, Nebraska currently has regional ambassadors in the St. Louis area, the Rockford, Illinois area, Wisconsin, Colorado, Nevada and Texas. Learn more about road trips and Concordia Nebraska visit days at https://www.cune.edu/visit-campus/visit-day.