Concordia University, Nebraska's 125 years celebrated in new book
Published by Concordia University, Nebraska 4 years ago on Fri, Dec 7, 2018 3:54 PM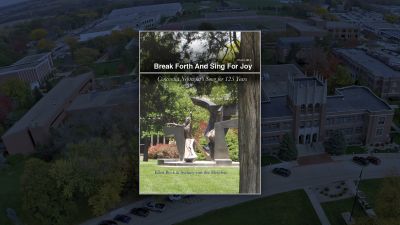 Ellen Beck's new book celebrating Concordia's 125th anniversary is available for sale through the Concordia Bookstore.
Concordia University, Nebraska continues the celebration of its 125th academic year with the release of a new commemorative book.
"Break Forth and Sing for Joy: Concordia Nebraska's Song for 125 Yeras" reflects on the history of Concordia. It tracks the school's humble beginnings––with stories of President George Weller and the first 13 students who lived and learned in a one-building Lutheran Normal School in the middle of a cornfield in 1894––to today's 120-acre thriving and growing campus with more than 2,500 students. The book includes an additional 140 photos, historical data and insights from current and retired Concordia faculty and administration.
The book was written and researched by Ellen Beck, a veteran journalist and adviser for The Sower, Concordia Nebraska's independent student newspaper. Sydney van der Heijden, a Concordia senior and graphic designer, developed the book's design. This project began nearly two years ago per President Rev. Dr. Brian Friedrich's request as part of the celebration of Concordia's 125th anniversary.
"There already were books for the 75th and 100th anniversaries but so much has changed since then," said Beck. "So many members of the Concordia family helped in this project, giving generously of their time to relate their experiences and institutional knowledge. This book has really made me appreciate all those who have dedicated their lives to serving the Concordia community.
Ellen Beck has been a journalist for 38 years in wire service, print, broadcasting and multimedia. Her husband, Tobin Beck, is an assistant professor of global studies and journalism at Concordia.
The book is available for purchase for $25 through the Concordia Bookstore or on the bookstore's website. To place your order, call (402) 643-7400.