Concordia University, Nebraska recognized in 2023 U.S. News & World Report's Best Online Programs rankings
Published by Danielle Luebbe 1 week ago on Tue, Jan 24, 2023 8:23 AM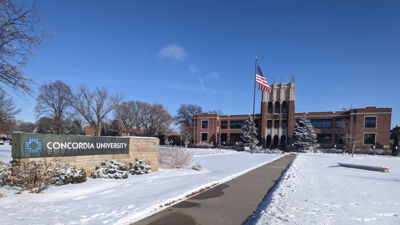 Concordia University, Nebraska is ranked #142 in online MBA programs and #157 in online Master of Education programs in the 2023 U.S. News & World Report's Best Online Programs ranking.
U.S. News & World Report today released 2023 best online programs rankings, which includes 1,800 online bachelor's and master's degree programs. Concordia University, Nebraska was recognized by U.S. News & World Report in two categories. The university ranked #142 in MBA programs and #157 in Master of Education programs, moving forward in the rankings in both categories. U.S. News assessed schools based on a variety of objective factors such as student engagement, faculty credentials and services and technologies.
"We are honored to receive this national recognition. It exemplifies our values and the university's commitment to equipping students to be a blessing in their workplaces, communities, families and churches," said Dr. Bernard Bull, Concordia president. "Concordia has a strong tradition of providing our students with high-quality and flexible online programs. We strive to create a learning community that sees each student as a unique child of God, full of potential, and that invites people to approach their lives, learning and work with conviction, character, courage and compassion."
The Best Online Programs include rankings of bachelor's programs as well as the following master's-level disciplines: MBA, business (non-MBA), computer information technology (including computer science), criminal justice/criminology, education, engineering and nursing. While the methodologies are different for each discipline, they all incorporate metrics specific to online learning. The rankings only include degree-granting programs that are offered primarily online by regionally accredited institutions.
"Honors like the U.S. News & World Report ranking demonstrate the value of a vocation-focused education at Concordia," said Jeremy Geidel, Concordia director of graduate admissions. "We are committed to providing quality, affordable online master's programs and enriching Christ-centered support, ensuring that our students get the best value possible from their online Concordia Nebraska experience."
Complete rankings from U.S. News & World Report are available online at usnews.com.