Concordia University, Nebraska recognized in 2022-2023 U.S. News & World Report's Best Colleges rankings
Published by Danielle Luebbe 1 year ago on Mon, Sep 12, 2022 8:48 AM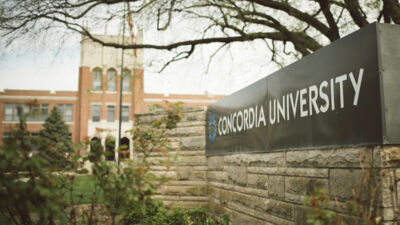 Concordia University, Nebraska is ranked No. 31 in the Best Value Universities-Midwest category of U.S. News & World Report's Best Colleges rankings for the 2022-2023 academic year.
U.S News & World Report today released its 2022-2023 best college rankings, which includes 1,500 colleges and universities across the country. Concordia University, Nebraska was recognized by U.S. News & World Report in three categories.
"Concordia has a strong tradition of providing our students with a rigorous yet affordable education within our Christ-centered, Lutheran-focused community," said Dr. Bernard Bull, Concordia president. "We are honored to receive this national recognition. It exemplifies our values and the university's commitment to equipping our students for their lives of learning, service and leadership in the church and world."
The university ranked No. 31 on the publication's 2022-2023 Best Value Schools - Regional Universities - Midwest list. This list takes into account a university's overall ranking, but also credits schools for the amount of financial support made available to students with need. For the 2022-23 academic year, Concordia provided 100% of full-time, on-campus undergraduate students with financial aid.
Concordia Nebraska ranked No. 46 on the publication's 2022-2023 Regional Universities -Midwest list. An institution classified as a regional university provides a full range of undergraduate majors and master's programs. Concordia offers more than 100 undergraduate majors and programs, as well as master's degrees in multiple areas, including education, public health, human sciences and business administration.
Additionally, Concordia ranked No. 51 on the publication's 2022-2023 Top Performer on Social Mobility list. This list measures the extent schools enrolled and graduated students who received federal Pell Grants, based on Fall 2015 data.
"Honors like the U.S. News & World Report ranking demonstrate the value of a private education at Concordia," said Aaron Roberts, Concordia director of undergraduate admissions. "Our commitment to providing financial aid to 100 percent of undergraduate students, combined with the quality academic programs and enriching Christ-centered support that Concordia provides, ensures our students get the best value possible from their college experience."
Complete rankings from U.S. News & World Report are available online at usnews.com/colleges. The print edition of the "Best Colleges 2023" guidebook will be available through retail outlets later this month.