Concordia University, Nebraska honors alumni and friends 
Published by Amy Crawford 1 month ago on Mon, May 8, 2023 9:17 AM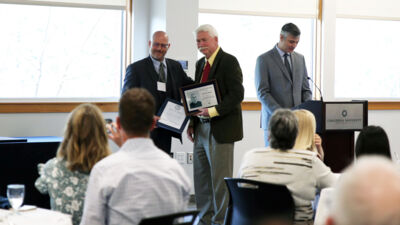 John M. Dinkel was awarded the Distinguished Service Award by Concordia University, Nebraska.
Concordia recognized six individuals with awards and honorary degrees at its commencement honors dinner on May 5. The degrees and awards celebrate the contributions and service of these individuals to the Concordia University community, the church and the world. 
Brian E. Mueller CO '76 GR '87 was conferred the Doctors of Laws Degree. The Doctor of Laws degree is conferred upon individuals who have distinguished themselves through prolonged superior service in their field of endeavor. Mueller is chief executive officer of Grand Canyon Education and president of Grand Canyon University, a private Christian university located in Phoenix, Arizona. He led a reinvention of Grand Canyon University's academic programs and helped develop operational efficiencies and fiscal responsibility that have enabled the university to ensure that high-quality, Christian education is affordable to all socioeconomic classes.
A sought-after speaker and thought leader, Mueller has delivered hundreds of notable speeches, presentations and keynote addresses to many audiences including Christian school administrators, community leaders, public safety experts, government officials, civic leaders, members of law enforcement, mental health professionals, business professionals and a variety of other audiences. He frequently speaks on a variety of education and service-related topics including methods for school goal achievement, the integration of higher education and the church, higher education in the 21st century and how Christian schools can not only survive but thrive in modern times.
Carole J. Boye '77 was also conferred the Doctor of Laws degree. A tireless advocate for people living with mental illness and substance use disorders, Boye is president and CEO of Community Alliance in Omaha, Nebraska. As the first and only CEO of this nonprofit organization that now serves nearly 5,000 people annually, she has overseen the development of a full range of community-based services for people living with mental illness and substance use disorders. She provides leadership in strategic planning, public policy innovation and development, board and community relations, resource allocation and more. 
Community Alliance is an integrated health care organization that offers a whole-person approach, including psychiatric services, mental health and substance use counseling, primary medical care and a range of rehabilitation, employment, community supports and family and peer support. Boye has given a number of informative and thought-provoking presentations throughout her career, speaking about mental health policy, service planning and delivery and funding strategies to multiple local, state and national organizations.
Rev. Dr. Jeffrey Ehlers '79 and Cheryl Ehlers were awarded the Crest of Christ Award. The Crest of Christ Award is given to members of the Lutheran church for outstanding service to the Church. The award is presented to those individuals who support and sustain in a quiet and deliberate fashion the public ministries and work of the Church. Cheryl (Blakeman) Ehlers grew up in Nebraska City, Nebraska, where she met Jeff. Their families both attended Christ Lutheran Church, where she played the organ, and Jeff served as acolyte. Jeff and Cheryl currently serve Garuna Ministries, a non-profit independent Lutheran mission organization founded by Jeff in 2001. Jeff is Garuna's chairman and chief executive officer, and Cheryl works as director of educational ministries. The Ehlers have served together across the globe, impacting schools, churches and countless individuals by sharing God's love to those in Nebraska, Atlanta, Bangkok, Phoenix and beyond. Tireless advocates for Christ-centered education, the couple serves both the church and the world with their focus on training others to continue to spread the good news of the Gospel through additional church plants and new Lutheran schools
James P. Bradshaw CO '82 GR '01 was awarded the Master Educator Award. The Master Educator Award is presented to teachers, Directors of Christian Education, school administrators, or deaconesses who have distinguished themselves through prolonged superior service in Lutheran educational ministry. Bradshaw has served as the assistant to the president for education and youth for The Lutheran Church–Missouri Synod (LCMS) Kansas District since March 2005. He provides support for the commissioned workers, Lutheran schools and early childhood centers across the district. Additionally, he serves as a resource for children's and family ministry, adult education and youth ministry for congregations. He also interfaces with disaster response and caring ministry teams for the Kansas District. Bradshaw completed a three-month sabbatical in 2013 and has spoken at various district conferences on his sabbatical topic: "Wellbeing as a Christ-Like Servant Leader." Prior to his work with the LCMS Kansas District, he served as a Director of Christian Education for 23 1/2 years in three districts: Texas, Minnesota South and Kansas. Bradshaw was conferred the title of Master DCE by the Lutheran Education Association in 2003.
John M. Dinkel was awarded the Distinguished Service Award. The Distinguished Service Award is presented to individuals who have distinguished themselves through outstanding public service. Dinkel is president of Dinkel Implement Company in Norfolk, Nebraska, a company that sells new and used farm equipment. He also has a strong personal interest in markets and investments. He is an appointed member of the Nebraska Investment Council, a group that manages about $36 billion of various state retirement funds and endowments including the pensions of educators and the Nebraska State Patrol as well as NEST 529 College Savings Plans.
Dinkel is actively involved in his church and the community and makes time in his busy schedule to serve on various councils and commissions across the state of Nebraska. A motivated civic volunteer, he has been actively engaged in politics with the Nebraska and Madison County Republican parties and also served as Nebraska Presidential Elector for the 2016 election as well as Delegate to the 2016 National GOP convention in Cleveland. Faithfully also serving the community and the church at large, Dinkel served on the Answering the Call steering committee at Concordia Nebraska, co-founded Norfolk Area Right to Life, served two terms as elder at Grace Lutheran Church in Norfolk, worked on the feasibility and building committee and board of directors for Lutheran High Northeast, and served as past president of the Lutheran Hospital Association. He also serves on the executive committee of the Nebraska Chamber of Commerce & Industry and on the steering and building committee for Christ Lutheran's current $10 million building project.