Concordia University, Nebraska holds dedication for the Dunklau Center for Science, Math and Business
Published by Concordia University, Nebraska 1 year ago on Fri, Nov 1, 2019 11:17 AM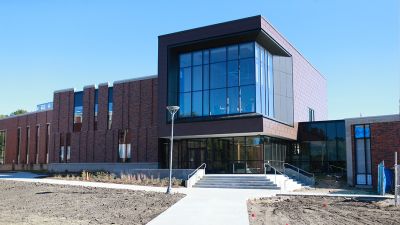 Concordia University, Nebraska will dedicate the Dunklau Center for Science, Math and Business with a ribbon cutting ceremony Nov. 15 at 2 p.m., followed by an open house from 3 to 5 p.m. Both events are open to the public.
"The Dunklau Center for Science, Math and Business project is energizing Concordia University's faculty, staff, students and alumni and transforming how we deliver our curriculum," said Rev. Dr. Brian Friedrich, Concordia's president. "The generous support we've received from the university's donors, both alumni and friends, has made it possible for us to provide Concordia students with this state-of-the-art learning facility, including learning spaces, equipment and technology that will enhance opportunities for students to pursue their vocations."
The Dunklau Center, a $26 million project, has been funded entirely by generous supporters of the university. The building includes 11 laboratory classrooms, two lecture halls, a greenhouse and multiple research labs within the building's 86,000 square feet. The facility provides collaborative spaces for students and faculty to work together in flexible, adaptive environments. Concordia's newest program, agricultural science, will also be housed in the Dunklau Center.
"This project further demonstrates our deep commitment to the Seward community and the fulfillment of our mission to equip men and women with a Christian, Lutheran higher education to serve and lead in God's church and world," said Friedrich.