Concordia University, Nebraska and Creighton University partner to offer dual degree 3 + 1 in biology and nursing
Published by Danielle Luebbe 8 months ago on Fri, Mar 18, 2022 2:32 PM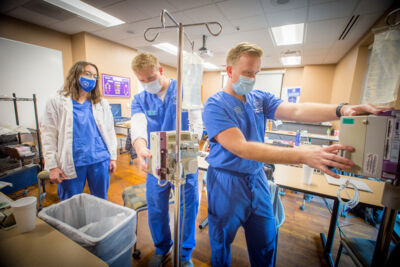 Concordia University, Nebraska and Creighton University College of Nursing have partnered to offer a dual degree 3+1 program in biology and nursing.
Concordia University, Nebraska and Creighton University have partnered to provide students an opportunity to receive both a Bachelor of Arts degree in biology and an accelerated Bachelor of Science degree in nursing (ABSN) while still finishing their college programs in a total of four years.
Through this partnership, students will spend the first three years of the program at Concordia. They will have the ability to live on Concordia's campus, participate in co-curricular activities and be eligible for financial aid as they earn their Bachelor of Arts degree in biology. Students with a 3.75 or higher high school GPA can apply directly to Concordia for admission to the dual degree program. Completion of the fourth, and final year, of courses will take place at Creighton's Grand Island campus. Students can choose to stay in Concordia housing during this final year.
"This partnership with Creighton University will provide Concordia's students with access to one of the most successful and longest-running accelerated nursing programs in the nation," said Dr. Tim Preuss, Concordia provost. "Nursing is already Concordia's principle pre-health program. This partnership will allow students to continue their Christ-centered education from two nationally-recognized Christian universities right here in Nebraska."
Concordia's biology program is one of the university's fastest-growing programs, with a student-to-faculty ratio of 15:1, ensuring students receive the personal attention needed to be successful. Each faculty member in the program has earned their terminal degree and 90% of recent biology graduates are either accepted into graduate school or employed within six months of graduation.
The Creighton nursing program was ranked the no. 43 best BSN nursing program in the nation by U.S. News & World Report, due in part to its active learning classroom strategies and robust clinical requirements, meaning students focus on active learning and clinical decision-making in the classroom and spend more time in the field gaining practical experience. The first-time pass rate average for graduates on the National Council Licensure Examination (NCLEX), the exam for the licensing of nurses, through the years 2016-2021 was 93.6%
"We are thrilled to partner with Concordia University to produce highly competent nurses particularly for the rural areas of Nebraska" said Dr. Catherine Todero, Dean of Nursing and Vice Provost for Health Sciences at Creighton University. "Our 3+1 dual degree program is a very student friendly option. And Concordia's strong academics and mission alignment make them an ideal partner for Creighton's College of Nursing."
For more information, visit cune.edu/nursing.