Concordia University health professor wins statewide award
Published by Concordia University, Nebraska 6 years ago on Thu, Nov 9, 2017 9:31 AM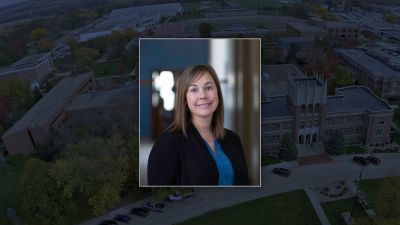 Concordia professor of health and human performance was selected for SHAPE's 2017 Health Education Teacher of the Year award at the college or university level.
Jennifer Janousek, associate professor of health and human performance at Concordia was recognized by the Nebraska Society for Health and Physical Education (SHAPE) for the 2017 Health Education Teacher of the Year award for her ongoing commitment and dedication to health education.
Each year SHAPE recognizes professionals and educators who exemplify leadership and encouragement in their curriculum.
"It is an honor to be recognized and I am deeply humbled," said Janousek on serving at Concordia. "It is a joy and privilege to teach at Concordia University, Nebraska. I truly love my job and the many opportunities I have been blessed with. I would like to thank my amazing colleagues, administrators, and especially my students who make going to work every day a pleasure. As long as I am living, I will continue to lead, teach, serve, and learn."
Janousek has taught at Concordia since 2001. Besides heading and directing Concordia's Master of Public Health program, she also teaches both graduate and undergraduate classes as well as leading an annual mission trip with her global health courses. Janousek is a member of the Public Health Association of Nebraska, the American Public Health Association, and the Society of Public Health Education. She received a bachelors in exercise science and psychology from Nebraska Wesleyan University, a master's in health education from University of Nebraska, Omaha, and a doctorate in public health from Walden University.
Awards were presented in conjunction with the annual SHAPE fall conference on Monday, Nov. 6, 2017 in Lincoln.
The Society for Health and Physical Education of Nebraska is one of the 50 state affiliations of SHAPE America, which has the nation's largest membership of health and physical educators and sets the National Standards for kindergarten through high school physical education and health. They also encourage students to implement healthy and physically active lifestyles as and advocate the development of resources for school health departments and their physical educators.