Concordia University Art Students Design Float for Seward Christmas Festival
Published by Concordia University, Nebraska 7 years ago on Fri, Nov 18, 2016 12:15 PM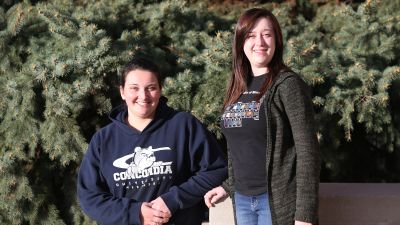 Pictured (l-r): Grace Woodburn and Hayli Frosheiser. Seward, Neb., Nov. 11, 2016.
Two Concordia University art majors from area communities will design and build a float for the annual Seward Christmas Festival Parade of Lights on Nov. 26, 2016.
Hayli Frosheiser, a junior graphic design major from Seward and Grace Woodburn a junior studio art major from York, plan to create a model of Weller Hall – the most recognizable building on the Concordia campus as part of a new art class that focuses on art in the community taught by Don Robson, professor of art and department chair.
"We are excited to have Concordia students participating in this year's parade," said Sharon Hambek, Seward Christmas Festival co-chair. "Concordia is such a large part of this community it only seems appropriate that they should be represented in the parade."
The festival is coordinated through the Seward County Chamber and Development Partnership and a volunteer group serving as the Christmas Festival Committee.
Faculty, staff and alumni of Concordia are invited to participate by walking with the float during the parade.