Concordia University announces Concordia University, Nebraska alumnus as new provost
Published by Concordia University, Nebraska 3 years ago on Thu, Mar 1, 2018 11:08 AM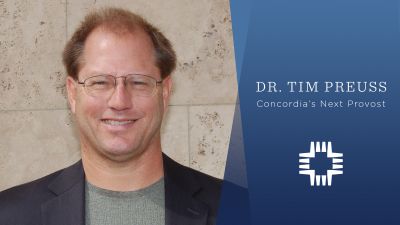 Dr. Tim Preuss called to serve as Concordia University, Nebraska Provost.
Concordia University, Nebraska president Brian Friedrich announced Dr. Tim Preuss, formerly of Seward, has accepted the call to serve as the next provost of the university and will begin his duties on July 2, 2018.
"It is with great joy and delight that I announce Dr. Tim Preuss has agreed to serve as the university's next provost, said Friedrich. "I thank God for leading Tim to accept the opportunity to serve in ministry with us."
As the university's provost, Preuss will serve as the chief academic officer of the institution. He will oversee all undergraduate and graduate academic departments, programs and faculty. He will also serve as the senior academic officer of the University Cabinet.
"I am excited to promote and advance the mission and vision of Concordia University, Nebraska," said Preuss. "As provost, I look forward to working with the faculty as we find new opportunities to educate and serve students. I am especially excited for the completion of the Dunklau Center for Science, Math and Business. This facility will be a tremendous blessing to the campus and I am confident it will attract thousands of young people who want to study in these fields."
Preuss serves as dean of the School of Professional Studies at Concordia University in Irvine, California. His career began in secondary education where he served as a high school teacher and coach from 1983-85 in Houston, Texas. In 1985, he returned to Concordia and served as assistant football coach and director of admissions until 1994 when he joined the faculty in the department of health and human performance. In addition to coaching football, Preuss served as head coach for the softball team and won three conference titles between 1994 and 2001.
In 2005, he became assistant professor of exercise and sport science and director of athletics at Concordia University Irvine. During his time at Irvine, the athletic department gained national prominence. "I worked hard to change the culture of sports from a transactional mindset to a transformational mindset," said Preuss.
After leading the Eagles' athletics program for four years, Preuss transitioned to academic administration and was named dean of the college of arts and sciences. After seven years, he transitioned to dean of School of Professional Studies. In this capacity, he oversees master's degrees in coaching and athletic administration, nursing and adult degree programs in applied liberal arts, business administration and leadership, health care management, organizational psychology and non-profit leadership.
Preuss received a B.S. in education from Concordia University, Nebraska with a Brookfield endorsement preparing him to teach biology, chemistry, physics and earth science. He received an MS. in exercise physiology and a Ph.D. in post-secondary leadership, both from the University of Nebraska-Lincoln. In addition, Preuss is a published author, speaker and leadership expert. He and his wife, Debbie, have three grown children and a sophomore in high school.
Preuss succeeds Dr. Jenny Mueller Roebke who has served as the university's provost for the past 10 years and is retiring at the end of May. "It has been a tremendous joy and precious honor to serve with Jenny for the past ten years," Friedrich said. "Her tenure as member of the faculty for 25 years and as Provost for the past decade has been blessed richly and abundantly. Her service and ministry leave a profound legacy for future generations."