Concordia University Alumna Wins Statewide Award
Published by Concordia University, Nebraska 3 years ago on Thu, May 17, 2018 12:19 PM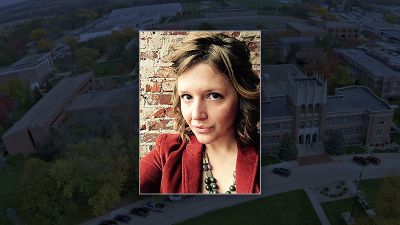 Concordia alumna Jen Bockerman was selected as the recipient of NATA's 2017 Nebraska Art Educator of the Year award.
Jennifer Bockerman, Concordia University, Nebraska, alumna and art teacher, has been recognized by the Nebraska Art Teachers Association (NATA) as the 2017 Nebraska Art Educator of the Year for her ongoing creativity and dedication to art education and her students.
Each year NATA recognizes outstanding contributions to student learning in Nebraska classrooms, leadership in curriculum and staff development in local school districts and communities as well as contributions to professional endeavors on state and national levels.
Lorinda Rice, Lincoln Public School's art curriculum specialist, commented, "Jennifer projects authentic learning experiences on her students that allow for connection to critical life experiences and the meaning-making that happens when they research, create and reflect within the creative process."
Bockerman graduated from Concordia in '06 with a B.F.A. in studio art and a B.S.Ed. in K-12 art education with an Lutheran Teacher Diploma (LTD). She went on to earn her M.A. in studio art from the State University of New York at New Paltz in 2010 and a M.Ed. in curriculum and instruction from Concordia in 2016. Bockerman has taught at Lincoln Lutheran Junior & Senior High School, Norwood Park Elementary, Doane University and the State University of New York. She currently teaches at Moore Middle School. Last year, she was named a Nebraska Department of Education STEM Fellow and has been selected for NED's Project-Based Learning Institute this summer. Bockerman also served on NDE's Nebraska Fine Arts Standards team in 2014. She works as an artist and has been featured in local, regional, and national group and solo art exhibitions. She will continue her studio work this summer at UNL's Cedar Point Biological Research Station as a resident artist, collaborating with scientists, college research students and the community to highlight the cross-disciplinary nature of art and science reflected in her work.
"This honor is really monumental for me," said Bockerman. "The recognition validates the work we are doing to facilitate student growth in self-exploration, collaboration, connection-making and cultural awareness. Through the exploration of empathetic communication, problem-seeking and solving, and pattern-recognizing, visual art students are learning skills to prepare them for our globalized world.
Bockerman was presented the award at the National Art Education Association (NAEA) convention on Friday, March 23 in Seattle, Washington.
The Nebraska Art Teachers Association is a professional organization whose mission is to develop and promote quality art education in Nebraska through a statewide professional support system, with opportunities for growth and development though leadership and service.