Concordia theatre presents a Gentleman's Guide to Love and Murder
Published by Concordia University, Nebraska 1 year ago on Fri, Oct 25, 2019 11:49 AM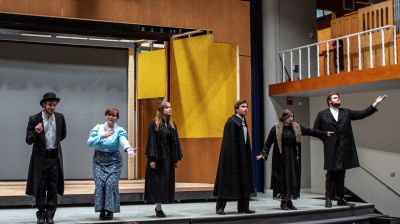 Concordia's theatre showcases the fall musical: A Gentleman's Guide to Love and Murder on Nov 1-3 and 9-10.
Concordia University theatre will perform its fall musical: A Gentleman's Guide to Love and Murder, based on a novel by Roy Horniman, Nov. 1-3 and 9-10 in Weller Auditorium on Concordia's campus. Friday and Saturday shows begin at 7 p.m., and Sunday shows begin at 2 p.m.
Tickets are on sale in the Concordia Bookstore, with general admission tickets for $10, and Concordia community tickets for $5.
In this Tony Award-winning musical comedy, Monty Navarro learns after his mother's death that he is related to the royal D'Ysquith family. When he figures out he is ninth in line for earldom, he decides to expedite the process and eliminate those in front of him.
"Everyone involved with the show, students and staff, have worked hard over these last couple months to bring the show's many moving parts together to work as one unifying production," said Bryan Moore, professor of communication and theatre arts. "After a fun and challenging process, we are excited to share this entertaining story with audiences."
The show presents Monty's encounters with and the unique deaths of the many members of the D'Ysquith family, along with an equally unique and surprisingly relevant love triangle. It is an exaggerated look at the lengths people will go to get what they want. The characters, including the entire D'Ysquith family as played by one performer, are eclectic and fun to watch, and it's hard not to laugh at the way these many circumstances conclude.
"Concordia's theatre program produces a variety of shows each semester, from mainstage and student-produced plays to improvisation and staged reading events," said Moore. "While some shows provide family entertainment, others entertain while encouraging dialogue between participants and audiences about important issues. Any student can audition for acting roles or volunteer to help out 'behind the scenes' regardless of major."
Concordia theatre cast and crew include (alphabetical by state with Nebraska first, city, last name):
Garret Drews, sophomore, Fremont, Neb., as Monty Navarro
Haleigh Fitzsimmons, sophomore, Lincoln, Neb., choreography
Emma-Rose Grothaus, sophomore, Lincoln, Neb., assistant director and props
Jonathan Kisker. Senior, Lincoln, Neb., sound design
Cecilia Minchow, sophomore, Lincoln, Neb., ensemble
Matthew Murphy, senior, Seward, Neb., ensemble
Tabitha Ristvedt, sophomore, Utica, Neb., as Miss Shingle
Keziah Bruns, junior, Waco, Neb., ensemble
Laura Hellwege, freshman, Edmonton, Ala., ensemble
Samantha Pietanza, senior, San Diego, Calif., as Sibella
Bethany Schilling, senior, Littleton, Colo., as Phoebe
Mikayla Lowe, sophomore, Atchison, Kan., assistant stage manager
Sarah Johnson, senior, Waconia, Minn., assistant director
Linnea Buchholz, junior, Saint Charles, Mo., choreography
Dana Simpkin, senior, Saint Peter, Mo., stage manager
Joseph Greenmyer, senior, Stirum, N.D. as The D'Ysquith Family (nine roles total)
Christopher Kasparek, senior, The Woodlands, Texas, light design
Gideon Baumgarn, freshman, Holmen, Wis., ensemble
Professor Bryan Moore, Seward, Neb., stage director
Anne Gray, Lincoln, Neb., soloist vocal director
Dr. Kurt von Kampen, Seward, Neb., chorus vocal director
Robert Olson, Dorchester, Neb., scenic design supervisor
Alexa Spale, Lincoln, Neb., costume design and shop supervisor