Concordia theatre department delves "Into the Woods"
Published by Concordia University, Nebraska 8 years ago on Wed, Oct 31, 2012 2:24 PM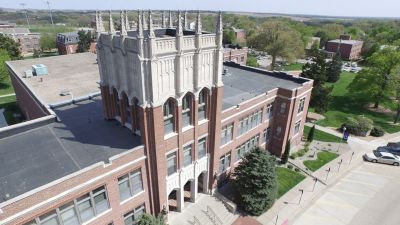 The theatre department at Concordia presented "Into the Woods," a musical production depicting troubled fairy tale creatures, based on the works of the Brothers Grimm. The musical was performed during the first two weekends of November in the Weller Hall Auditorium.
"Into the Woods," written by James Lapine, with music and lyrics by Stephen Sondheim, follows the stories of several fairy tale creatures including Little Red Riding Hood, Cinderella, Jack from "Jack and the Beanstock" and Rapunzel. The stories weave with the tale of a baker and his wife on their quest to start a family as they discover they've been cursed by an evil witch.
Cast
Narrator/Mysterious Man: Andrew Magnus, Sophomore, Springfield, Mo.
Cinderella: Andrea von Kampen, Freshman, Seward, Neb.
Jack: Jordan Miller, Sophomore, Pinehurst, Texas
Jack's Mother: Beth Wiseman, Senior, Fairbury, Neb.
Baker: Steven Whitney, Senior, Kenyon, Minn.
Baker's Wife: Sarah Dinger, Senior, Pocatello, Idaho
Cinderella's Stepmother: Caitlynn Schwehn, Senior, Grand Island, Neb.
Florinda: Elyssia Finch, Freshman, Omaha, Neb.
Lucinda: Beth Ahlers, Freshman, Pierce, Neb.
Cinderella's Father: Tyler Zander, Senior, Howard Lake, Minn.
Little Red Riding Hood: Jenna Karlin, Sophomore, Lincoln, Neb.
The Witch: Heather Niedfeldt, Senior, Stella, Neb.
Cinderella's Mother: Michaela Gierke, Sophomore, Billerica, Mass.
Wolf: Collin Christiansen, Sophomore, Palmer, Alaska
Granny: Alyssa Lehenbauer, Sophomore, Lake Ozark, Mo.
Rapunzel: Kaellyn Marrs, Junior, St. Louis, Mo.
Rapunzel's Prince: Stephen Ramsey, Freshman, Utica, Neb.
Cinderella's Prince: Zach Klatt, Sophomore, Shawnee Mission, Kan.
Steward: Sean Carpenter, Freshman, Hollis, N.H.
Giant: Brittany Becker, Senior, St. Peters Mo.
Crew:
Jordan Schultz, Senior, Beemer, Neb.
Sarah Heins, Junior, Higginsville, Iowa
Sarah Lohman, Sophomore, Denver, Iowa
Sean Berry, Sophomore, Castle Rock, Colo.
Andrew Metcalf, Senior, St. Louis, Mo.
Conner Lloyd, Sophomore, Parker, Colo.