Concordia theater students tour United States, Canada
Published by Concordia University, Nebraska 7 years ago on Fri, Jun 6, 2014 11:54 AM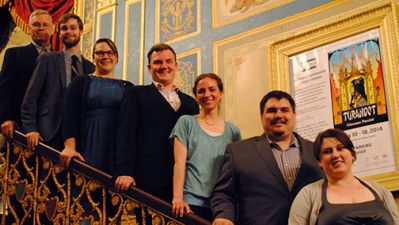 The group visits the tour's first opera at the Detroit Opera House. From left to right: Dr. Bruce Creed, Andrew Magnus, Kirsten Awe, Conner Lloyd, Stephanie Rippstein, Nick Butcher and Stephanie Wilde. (Not pictured, Prof. Bryan Moore.)
Six theater students from Concordia took part in the fourth annual theater study tour through the United States and Canada May 12-26. Led by communication professors Dr. Bruce Creed and Bryan Moore, the group saw 19 plays and participated in multiple post-show talks with actors and actresses.
"For many students, this may be the first time they get to see professional theater in a larger city or larger theater," Moore said. "Students can learn from the similarities and differences of these productions to the plays produced at our university in order to prepare and aspire to make their own productions better than before."
The tour began in Omaha with a group of 50 Concordia students and faculty seeing the musical Wicked before the small group headed to Chicago to watch nine plays, including a Broadway production of Motown the Musical. The group also watched the tour's first opera, Turandot, in Detroit and attended other professional, collegiate and community productions and post-show talks along the way.
The group also left the United States for the first time on theater tour to visit Ontario, Canada and watch three Shakespearean plays at the Stratford Festival along with watching four other plays, touring theater facilities and meeting some of the festival artists. The group visited Niagara Falls before returning to campus.
Students who participated in the tour include:
Nick Butcher, senior, Saginaw, Mich.
Stephanie Rippstein, 2014 graduate, Seward, Neb.
Stephanie Wilde, junior, Parkers Prairie, Minn.
Conner Lloyd, junior, Parker, Colo.
Kirsten Awe, senior, Tilden, Neb.
Andrew Magnus, junior, Springfield, Mo.