Concordia theater department presents "The Winter's Tale"
Published by Concordia University, Nebraska 7 years ago on Wed, Nov 6, 2013 10:18 AM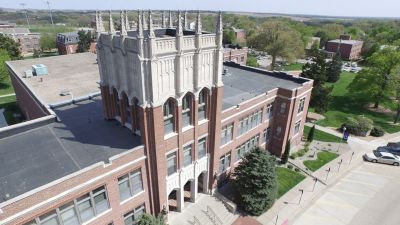 Concordia's theater department presented Shakespeare's The Winter's Tale on Friday and Saturday, Nov. 8-9.
The Winter's Tale, first published in 1623, depicts the story of two kings, Leontes and Polixenes. Leontes accuses his wife, Hermoine, of having an affair with Polixenes and casts her newborn baby daughter out into the wilderness. The daughter, unaware of her royal heritage, becomes a shepherd and falls in love with Polixenes' son, adding a twist to the drama and leading to a romantic, comedic ending.
Cast:
Archidamus - Conner Lloyd, junior, Parker, Colo.
Camillo - Izaak Wendorff, freshman, Winthrop, Minn.
Polixenes - Andrew Magnus, junior, Springfield, Mo.
Leontes - Andrew Holden, freshman, Cardiff, Calif.
Hermione - Emily Kollbaum, freshman, Concordia, Mo.
Emilia - Caitlynn Schwehn, senior, Grand Island, Neb.
Paulina - Taylor Baumeister, junior, De Pere, Wis.
Mamillius and Friend (alternating roles) - Owen Anson, Ryan Wall, both of Seward
Mamillius's Attendants - Michaela Gierke, junior, Billerica, Mass.; Alicia Royuk, freshman, Seward, Neb.
Antigonus - Mark Gaschler, senior, Imperial, Neb.
Cleomenes - Caleb Haack, sophomore, Omaha, Neb.
Dion - Rosemary Selking, junior, Chariton, Iowa
Leontes's Advisers - Rory Wendelin, graduate student, Oberlin, Kan.; Allison Caudle, freshman, Greeley, Colo.; Ruthie Krc, senior, Frederick, Md.
Jailer - Caleb Pfeil, freshman, Hiawatha, Iowa
Officer - Rebecca Wittig, senior, Saginaw, Mich.
Mariner - Stephen Ramsey, freshman, Utica, Neb.
Old Shepherd - Bruce Creed, professor of communication, Seward, Neb.
Shepherd's Son - Paul Nelson, freshman, Norfolk, Neb.
Autolycus - Alyssa Lehenbauer, junior, Lake Ozark, Mo.
Florizel - Zachary Klatt, junior, Shawnee Mission, Kan.
Perdita - Kaellyn Marrs, senior, St. Louis, Mo.
Mopsa - Rianne Gross, junior, Riverside, Calif.
Dorcas - Lindsey Warneke, senior, Omaha, Neb.
Shepherd - Tanner Bohlender, freshman, Lincoln, Neb.
Lady, Shepherd's Servant - Sarah Rethwisch, freshman, Fort Dodge, Iowa
Ladies - Marol Feickert, freshman, Lawrenceville, N.J.; Emily Jensen, sophomore, Sioux City, Iowa; Elizabeth Wittig, senior, Saginaw, Mich.
Servants - Stephanie Wilde, junior, Parkers Prairie, Minn.; Libby Klein, freshman, Northfield, Minn.
Crew:
Director - Bryan Moore, associate professor of communication and theater
Assistant Director - Stephanie Rippstein, senior, Seward, Neb.
Assistant Stage Manager - Delaney Sommers, sophomore, Grain Valley, Mo.
Props Assistant - Brindie Howerton, junior, Kaneohe, Hawaii
Set Design and Scenery - Nick Butcher, senior, Saginaw, Mich.
Scenery - Joseph Pierson, freshman, Van Buren, Ark.; Chad Berg, freshman, West Fargo, N.D.
Costumes - Kirsten Awe, junior, Tilden, Neb., Pamela Jones, freshmen, Goleta, Calif.
Lights - Sean Berry, junior, Castle Rock, Colo.
Sound - Bethie Williams, junior, Aurora, Colo.
Music Director - Caitlynn Schwehn, senior, Grand Island, Neb.
Choreography - Allison Caudle, freshman, Greeley, Colo.; Jenna Karlin, junior, Lincoln, Neb.
House Manager: Brooke Zarick, sophomore, Seymour, Ind.