Concordia theater department presents "Shakespeare on the Green"
Published by Concordia University, Nebraska 2 years ago on Mon, Feb 12, 2018 11:26 AM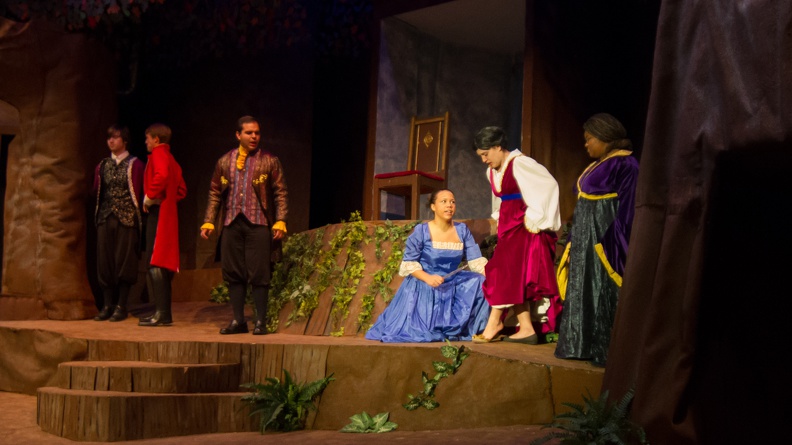 Concordia will present "Shakespeare on the Green," by Amanda Petefish-Schrag and Ben Schrag at 7:30 p.m. on Friday, Feb. 23; Saturday, Feb. 24; and at 2 p.m. on Sunday, Feb. 25, in the Studio Theatre located in the Music Center on Concordia's campus.
The show is subtitled and described as "Fun, Frantic and Slightly Fractured Introductions to Shakespeare Plays." The play uses comedic narration to modernize and share abridged versions of the Bard's classic works. This production will present five plays: Taming of the Shrew, King Lear, The Winter's Tale, and Comedy of Errors, written by Petefish-Schrag and Schrag, as well as Antony and Cleopatra, created collaboratively by our cast and directors.
"The actors perform as a comedy troupe playing multiple characters throughout the show," said Bryan Moore, associate professor of communication and theatre. "Playing multiple characters in any show provides a fun challenge in preparation and skills. The actors are working hard to get their various roles down, and they are excited to share this show and these stories with others."
The doors open a half hour before each performance. Tickets are $5 for the general public and $3 for Concordia students, staff and faculty and are available for purchase at the Concordia Bookstore located in Janzow Campus Center or at the door.
Cast members include (alpha by last name):
Joshua Brumm, junior, Seward, Neb.
Joseph Greenmyer, junior, Stirum, N.D.
Emily Jensen, senior, Seward, Neb.
Mason Koeritz, senior, Northrop, Minn.
Ben Leeper, senior, Thornton, Colo.
Jade Rowe, senior, Cozad, Neb.
Rebekah Rusert, senior, Truman, Minn.
Amelia Schlichting, sophomore, Lyons, Neb.
Madeline Smith, senior, Wood River, Neb.
Tationa Trice, junior, St. Louis, Mo.
Amos Utecht, sophomore, Rosebud, S.D.
Dylan White, senior, Lexington, Neb.
Abigail Wisniewski, senior, Seward, Neb.
Crew members include:
Director: Bryan Moore, associate professor
Assistant Director: Jayme Lowe, senior, Atchison, Kan.
Dramaturg: Emily Jensen, senior, Seward, Neb.
Stage Manager: Katherine Draucker, junior, Ogallala, Neb.
Scenery: Robert Olson, staff; Chris Genszler, senior, Oregon, Ohio; Chad Berg, junior, West Fargo, N.D.
Costumes: Alexa Kirchgasler, staff
Props: Breann Huber, sophomore, Arvada, Colo.
Lights: Dylan White, senior, Lexington, Neb.