Concordia theater department presents "Murder's in the Heir"
Published by Concordia University, Nebraska 3 years ago on Thu, Mar 23, 2017 12:04 PM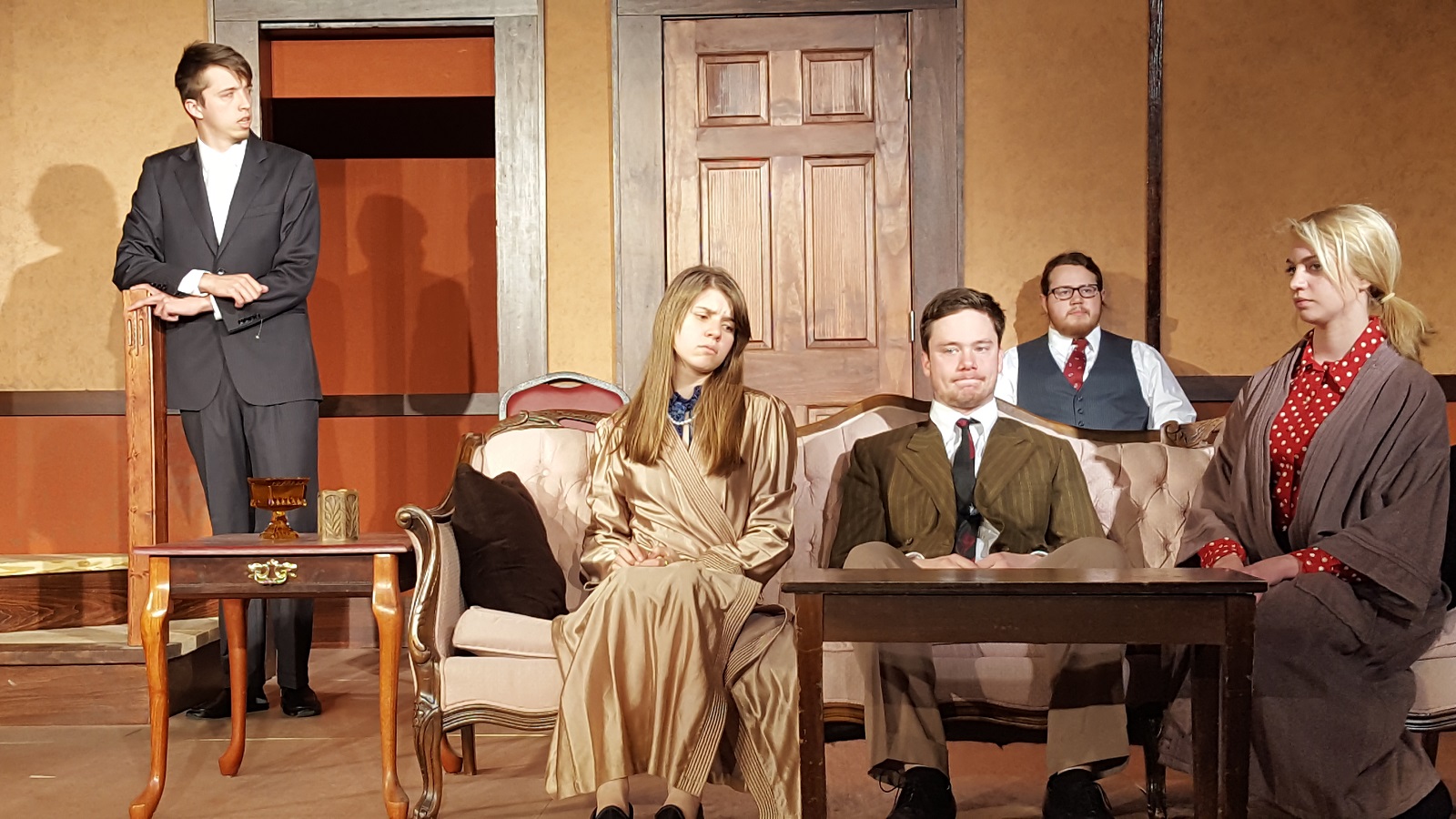 Concordia University, Nebraska, will present "Murder's in the Heir," at 7 p.m., Thursday, March 30 – Saturday, April 1, 2017 at the Olde Glory Theatre located at 348 Jackson Ave. in Seward, Nebraska.
The play is an interactive murder mystery-comedy in a dessert theater format. Almost every character in the mystery has the weapon, opportunity and motive to commit the unseen murder and it is up to the audience to decide who actually did it.
"This is the first Concordia theatre production performed at Olde Glory," said Bryan Moore, associate professor of communication and theatre. "I look forward to sharing these students' talents with more of our community. We are excited to use this special venue to present this fun and interactive play, where the audience helps select the killer. The cast has worked hard to prepare for whatever the audience chooses, and we are curious to see if we have a different killer every night."
The doors open and dessert is served starting at 6:15 p.m. before each performance. Tickets are $7 for Concordia students, staff and faculty members and $10 for the general public and are available for purchase at www.oldeglorysewardne.com.
Cast members include:
Joshua Brumm, sophomore, Seward, Neb., playing the role of Simon Starkweather
Sarah Krause, senior, Rockford, Ill., acting as Fiona Starkweather
Tyler Raabe, junior, Omaha, Neb., playing the role of Jordan Starkweather
Cadence Klemp, junior, Winona, Minn., playing the role of Paula Thompson
Mason Koeritz, senior, Northrop, Minn., acting as Bensonhurst
Emily Kollbaum, senior, Concordia, Mo., playing the role of Mrs. Trent
Elyssia Finch, senior, Omaha, Neb., playing the role of Minerva Walker
Emily Jensen, senior, Sioux City, Iowa, acting as Nancy Pollard
Andrew Crist, senior, Springfield, Mo., playing the role of Rufus Jones
Brianna Bossle, senior, Coral Springs, Fla., acting as Lois Van Zandt
Tiffany Smith, sophomore, Earlham, Iowa, playing the role of Miss Withers
Sarah Johnson, senior, Carlisle, Iowa, acting as Kathy Collins
Ben Leeper, senior, Thornton, Colo., acting as Mike Davis
Jordan Schut, senior, Scribner, Neb., playing the role of Gene Culpepper
Taylor Kniewel, freshman, Omaha, Neb., playing as an Usher
Samantha Pietanza, freshman, San Diego, Calif., playing as an Usher
Crew members include:
Professor Bryan Moore, Director
Emily Fehn, junior, Freeland, Mich., Assistant Director
Katherine Draucker, sophomore, Ogallala, Neb., Stage Manager
Emily Patton, senior, Hartley, Iowa, Stage Manager & Props Manager
Kenton Burgess, junior, Lees Summit, Mo., Assistant Stage Manager
Dana Simpkin, freshman, Saint Peters, Mo., Assistant Stage Manager
Robert Olson, of the Seward community, Set Design
Joseph Pierson, senior, Van Buren, Ark., Scenery Student Supervisor
Chris Genszler, junior, Oregon, Ohio, Scenery Student Supervisor
Christopher Kasparek, freshman, The Woodlands, Texas, Scenery Student Supervisor
Alexa Kirchgasler, Costume Shop Technician/Supervisor, Costume Design
Kaleb Busche, post baccalaureate, Fort Wayne, Ind., Costume Student Supervisor
Meghan Woodruff, junior, High Ridge, Mo., Costume Student Supervisor
Erin Rowland, sophomore, Saint Peters, Mo., Costume Student Supervisor
Dylan White, junior, Lexington, Neb., Light Design
Jonathan Kisker, freshman, Lincoln, Neb., Sound Design
Melonie Kotschwar, senior, Seward, Neb., Backstage