Concordia theater department presents "The Glass Menagerie"
Published by Concordia University, Nebraska 7 years ago on Tue, Mar 25, 2014 9:42 AM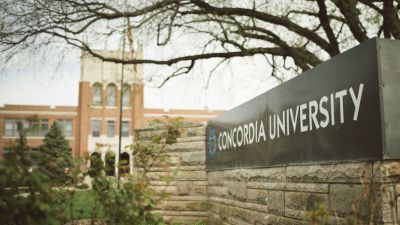 Emotions rose as the Concordia theater department presented The Glass Menagerie by Tennessee Williams March 28-30 in the Black Box Studio Theater, located in the lower level of Concordia's Music Center.
"There is so much honesty and rawness to the characters that I feel audience members were able to connect to each character's search for happiness and acceptance in a difficult world, as well as the overwhelming instinct to take care of others, which can sometimes be to the detriment of those involved in the relationship," Joy Johnson, theater arts instructor and director of the show, said.
Set in the 1930s, the story unfolds through the memory of Tom Wingfield, a warehouse worker and aspiring poet, as he recalls his sister, Laura, and their mother, Amanda. Tom's father abandoned the family, and his mother expresses deep concern for Laura, who walks with a limp and has low self-esteem. The mother spends much of the play looking for a suitable caller for her daughter. Laura, who has dropped out of school, spends her days admiring her collection of small glass animals. Tom introduces Laura to a friend from work, an acquaintance who soon begins to tear the family apart.
Cast members:
Emily Kollbaum, freshman, Concordia, Mo., playing the role of Amanda Wingfield
Naomi Kuddes, junior, Austin, Minn., playing the role of Laura Wingfield
Andrew Crist, sophomore, Springfield, Mo., playing the role of Tom Wingfield
Collin Christiansen, junior, Palmer, Ark., playing the role of Jim O'Connor
Crew members:
Sarah Dinger, alumna, Pocatello, Idaho, assistant director
Brooke Zarick, junior, Seymour, Ind., assistant director, stage manager, props mistress
Nick Butcher, senior, Saginaw, Mich., set design
Kirsten Awe, senior, Tilden, Neb., costume design
Rory Wendelin, graduate student, Oberlin, Kan., costume assistant
Sean Berry, senior, Castle Rock, Colo., lights
Allison Caudle, freshman, Greeley, Colo., lights
Bethany Williams, junior, Aurora, Colo., sound