Concordia students tour Netherlands and Germany
Published by Concordia University, Nebraska 10 years ago on Fri, May 31, 2013 5:17 PM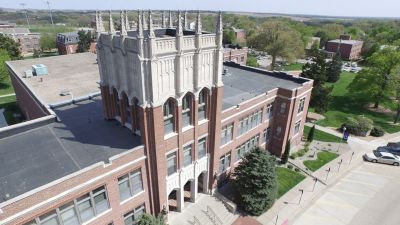 Two professors and 18 students from Concordia recently returned from an art and communication study tour. The group spent two weeks in Amsterdam in the Netherlands, and Cologne and Berlin in Germany.
The tour was led by Dr. Bruce Creed, professor of communication, and Lynn Soloway, professor of art. The two regularly lead study tours to Europe and have accompanied students to nearly every country in central and Western Europe since 1997.
While on the tour, students visited a variety of art museums including the Rijksmuseum and Van Gogh Museum in Amsterdam, the Ludwig and Wallraf-Richartz museums in Cologne, and the New National Gallery and Bauhaus Archives in Berlin. In addition, the group toured several historical sites and World War II memorials including Sachsenhausen Concentration Camp, the Anne Frank House, Checkpoint Charlie and the Berlin Wall, as well as the Cologne Cathedral, Berlin Dom and other churches.
"I think it's important to see cultures other than your own," said senior Hayley Koeritz. "It's easier to do in college and I want to do it while I can."
The trip allowed students to gain academic credit while traveling abroad. Art students were able to see pieces of art they had previously studied in art history classes. Koeritz said the historical sites of the tour were also enlightening.
"You can move a painting; it can go on tour, but you can't move a concentration camp or the site where history happened," she said.
Travelers included:
Sarah Bowe, Freshman, Omaha, Neb.
Tasha Burrill, Senior, Loveland, Colo.
Bruce Creed, professor of communication, Seward, Neb.
Kelli Claassen, Senior, Lincoln, Neb.
Joshua Duncan, Senior, Hickman, Neb.
Erin Hanna, Senior, Random Lake, Wis.
Emily Hemphill, Junior, Utica, Neb.
John Jostes, Junior, Saint Louis, Mo.
Hayley Koeritz, Senior, Northrop, Minn.
Paula Leibbrandt, Junior, Imperial, Neb.
Mary Masur, Senior, David City, Neb.
Alyssa McAfee, Junior, Dannebrog, Neb.
Elise Ortmeier, Senior, Beemer, Neb.
Alison Schuerman, Sophomore, Crete, Neb.
Jennifer Smith, Junior, Grafton, Neb.
Lynn Soloway, professor of art, Seward, Neb.
Dane Stahr, Junior, Lincoln, Neb.
Jessica Wagner, Senior, Ballwin, Mo.
Erin Wineman, Senior, Walton, Neb.
Nicole Hill, Senior, Gladstone, Mo.