Concordia students, staff and alumni serve throughout the world summer 2019
Published by Concordia University, Nebraska 4 years ago on Fri, Sep 27, 2019 12:10 PM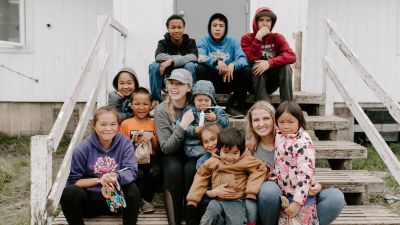 Photo courtesy Laura VonKampenConcordia student Laura VonKampen (middle), along with the mission team in Hooper Bay, Alaska, led a Vacation Bible School for more than 300 of the village's children. The team also led Bible studies for the village's men, women and teens.
Students, staff and alumni from Concordia University, Nebraska, served throughout the world this past summer on mission and study trips.
"When we get invited back to locations year after year, it builds relationships with the people," said Julie Johnston Hermann, director of global opportunities. "It's all about relationships."
Dr. Vicki Anderson, associate professor of education, and 10 students spent five weeks teaching in two English as a second language summer camps for students at Buena Vista Concordia International School in Shenzhen, China. This was the seventh year of students administering these ESL camps. The camps, "Interstellar Steam," featured classes in science, technology, engineering, art and math, as well as English. Concordia students Kirsten Hall, Olivia Hunt, Erin Johnson, Kianna Ogilvie, Andria Ostovich, Tia Pawlowski, Audrey Quandt, Hayden Rensner, Adrianna Shaw and Danae Welling taught nearly 150 Chinese children ages 4 to 14 and participated in church activities, coffee shop ministry through conversation and spent time sightseeing.
Another five students, Chelsea Irwin, Ashleigh Baker, Abigail Deloach, Monica Lennington and Daniel Spaulding traveled to a small village called Jawornik, just outside of Wisła, Poland with Holy Savior Church. These students administered an ESL summer camp by teaching children from ages 8 to 14 English lessons, some English sports and different American crafts.
"I decided to go because my major is Early Childhood Inclusive," said Baker. "I got hands on experience with the grade I want to teach later on. It was such an amazing experience."
Four students, Cassandra Eberth, Laura VonKampen, Sonja Brandt and Victoria Cameron traveled to Hooper Bay, Alaska with Can-Do Missions and St. John Lutheran Church in Seward, volunteered at several centers for homeless and at risk youth, food banks, churches, a Lutheran school and a pregnancy center. They served in a variety of ways, including Bible study, devotions, a basketball tournament, cleaning and yard work.
"I originally wanted to go on the trip because I was hoping to serve in the same village as last year, but God had other plans," said Brandt. "I learned that being flexible is important for mission work, and that no matter where you go, you can serve people."
Additional Concordia undergraduate students who traveled abroad include Kimberly Sleeper, who studied abroad in Chile, as well as Rebecca Hoffschneider, who studied abroad in Greece with the American Institute for Foreign Study (AIFS) and Rachel Smithley experienced Peru as she studied abroad through Veritas. Kate Esser traveled to Ethiopia with Lutheran Bible Translators on a vision trip. Vision trips allow students to shadow those who are Lutheran Bible Translators and envision themselves working in that position. Sonja Brandt and Autumn Johnson traveled to Uruguay on a mission trip as well, and there are plans in place for Concordia students to return in following years.
Spain saw some Concordia students studying abroad, with Rachel Kunkel also through AIFS, Stephanie Barry through Academic Programs International and Josie Mottl with Spanish Studies. Bethany Gillet visited Scotland through Veritas on a study abroad trip and studied at the University of Sterling, where she took nonfiction creative writing and Scottish film classes, attended a refuge church and watched 25 individuals become baptized, in addition to exploring the country.
DeLoach, Eberth and VonKampen each received a grant from Concordia's Acts 1:8 Students in Mission fund. The grant is provided to students who travel abroad and participate in mission trips where they were able to demonstrate Jesus' love through words and works.
"I was so blessed to receive the Acts 1:8 grant," said VonKampen. "This grant made it possible for me to go on this trip and I could not be more grateful for the opportunities it gave me. The people behind the Acts 1:8 grant were so generous and I appreciate them so much."
Studying abroad and mission trips through Concordia are available for all students, with many different opportunities for service and learning.
"Anybody can get involved in these experiences," Johnston Hermann said. "All one needs is a heart to travel and learn about life. God uses all gifts, whether you're an accounting major, education major, art major or science major."
Concordia University, Nebraska students participating in global outreach in summer 2019 (listed by country/state visited, home state and then home city in alphabetical order):
Alaska (Mission trip)
Laura VonKampen, Atkins, Iowa
Casandra Eberth, Basehor, Kan.
Sonja Brandt, Knob Noster, Mo.
Victoria Cameron, Kent, Wash.
Chile (Study abroad)
Kimberly Sleeper, Omaha, Neb.
China (ESL summer camp)
Kirsten Hall, Livermore, Calif.
Erin Johnson, Brighton, Colo.
Kianna Ogilvie, Colorado Springs, Colo.
Hayden Rensner, Effingham, Ill.
Olivia Hunt, Big Lake, Minn.
Danae Welling, Ashland, Neb.
Adrianna Shaw. Bassett, Neb.
Audrey Quandt, Grand Island, Neb.
Tia Pawlowski, Gann Valley, S.D.
Andria Ostovich, Germantown, Wis.
Ethiopia (Vision trip)
Kate Esser, Mayer, Minn.
Greece (Study abroad)
Rebecca Hoffschneider, Utica, Neb.
Peru (Study abroad)
Rachel Smithley, Waldorf, Md.
Poland (ESL summer camp)
Monica Lennington, Atchison, Kan.
Daniel Spaulding, Armada, Mich.
Abigail DeLoach, Kearney, Neb.
Chelsea Irwin, Lincoln, Neb.
Ashleigh Baker, Milford, Neb.
Scotland (Study abroad)
Bethany Gillet, Watson, Ill.
Spain (Study abroad)
Rachel Kunkel, Colorado Springs, Colo.
Stephanie Barry, Omaha, Neb.
Josie Mottl, Omaha, Neb.
Uruguay (Mission trip)
Sonja Brandt, Knob Noster, Mo.
Autumn Johnson, Fremont, Neb.