Concordia students showcase artwork at Marxhausen Gallery of Art
Published by Concordia University, Nebraska 6 years ago on Mon, Apr 18, 2016 10:57 AM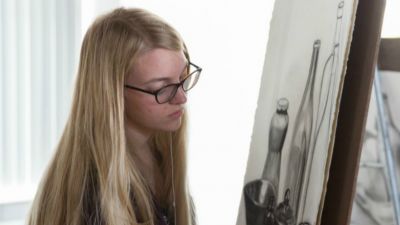 Jordyne Vanselow and other student artists from Concordia University, Nebraska have created artwork for display at the Marxhausen Gallery of Art on campus at Concordia in Seward.
The best of Concordia University, Nebraska students' artwork, as judged by Concordia's full-time art faculty, are on display at the Marxhausen Gallery of art from April 17 through May 4, 2016. The exhibit is free and open to the public.
Art majors are required to enter their work to be judged. If accepted, their artwork will be displayed in the gallery and will be eligible for monetary awards. Endowed scholarships are among the awards.
The Annual Student Art Exhibition is a spring ritual for the university's art community. First- and second-year art majors must submit five works of any type of art. Third- and fourth-year students must enter seven pieces. If desired, students are able to sell their art during and after the exhibition.
The Marxhausen Gallery is located in Jesse Hall and is open Monday–Friday from 11 a.m. to 4 p.m. and Saturday and Sunday from 1 p.m. to 4 p.m.
Concordia students with artwork selected for exhibition include (alphabetical by state, city, last name):
Sophie Thorsen, freshman, Huntsville, Alabama
Amanda Wygant, junior, Oceanside, Calif.
Allise Loomis, sophomore, Centennial, Colo.
Hope Martin, sophomore, Denver, Colo.
Jordyn Sturms, junior, Lone Tree, Colo.
Grace Hollenbeck, senior, Parker, Colo.
Emily Writebol, freshman, Parker, Colo.
Carlos Acosta Davila, junior, Cali, Colombia
Grace Stange, junior, Lawrenceburg, Ind.
Chelsea Wohlgemuth, sophomore, Alton, Iowa
Elizabeth Davidson, junior, Atlantic, Iowa
Sarah Johnson, junior, Carlisle, Iowa
Emily Patton, junior, Hartley, Iowa
Naomi Pfeil, senior, Hiawatha, Iowa
Hannah Willison, junior, Manning, Iowa
Sean Doran, senior, Dublin, Ireland
Ben Vallin, sophomore, Eagan, Minn.
Micah Witt, senior, Faribault, Minn.
Jordyne Vanselow, freshman, Greenwood, Mo.
Kelly Snader, sophomore, Higginsville, Mo.
Sylvia Braun, senior, Jefferson City, Mo.
Hannah Fortna, senior, Macon, Mo.
Evan Rodriguez, junior, Princeton, N.J.
Lislette Engler, sophomore, Tonawanda, N.Y.
Courtney Jurgens, junior, Beatrice, Neb.
Cynthia Campbell, senior, Columbus, Neb.
Jade Rowe, sophomore, Cozad, Neb.
Amber Deepe, senior, Deshler, Neb.
Brittany Arent, freshman, Elkhorn, Neb.
Amber Hopp, junior, Elkhorn, Neb.
Gavin Grimaldo, freshman, Friend, Neb.
Kathie Nguyen, sophomore, Grand Island, Neb.
Sierra Salazar, junior, Hastings, Neb.
Courtney Kuehn, freshman, Kenesaw, Neb.
Leah Guenther, sophomore, Lincoln, Neb.
Emma Jacoby, sophomore, Lincoln, Neb.
Eva Lube, junior, Lincoln, Neb.
Mitchell Volk, senior, Lincoln, Neb.
Taylor Workman, junior, Lincoln, Neb.
Hannah Rose, junior, Louisville, Neb.
Tyler Ganskow, junior, Madison, Neb.
Marissa Fuchser, freshman, Malcolm, Neb.
Jessica Wang, freshman, Milford, Neb.
Stephanie Coley, senior, Mitchell, Neb.
Danielle Harstad, senior, Norfolk, Neb.
Sarah Bowe, senior, Omaha, Neb.
Erika Ewing, senior, Omaha, Neb.
Clyde Ericson, junior, Osceola, Neb.
Aubri Bro, junior, Papillion, Neb.
Abigail Schroeder, freshman, Schuyler, Neb.
Cole Berry, junior, Seward, Neb.
Megan Boye, freshman, Seward, Neb.
Joshua Brumm, freshman, Seward, Neb.
Hayli Frosheiser, sophomore, Seward, Neb.
Fabricio Mendez, sophomore, Seward, Neb.
Emmiline Moll, junior, Seward, Neb.
Zachary Moll, junior, Seward, Neb.
Jessica Orwen, sophomore, Seward, Neb.
Miranda Stamm, freshman, Seward, Neb.
Jessica Moss, sophomore, Wood River, Neb.
Grace Woodburn, sophomore, York, Neb.
Austin Romine, senior, Fort Worth, Texas
Taylor Rankel, sophomore, Spring, Texas
Laura Sattler, senior, East Troy, Wis.