Concordia students recognized at O'Keefe Elevator Company Art Show
Published by Concordia University, Nebraska 9 years ago on Fri, Apr 19, 2013 6:54 PM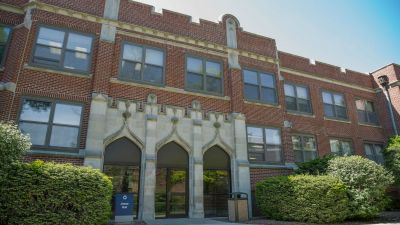 Concordia student Grace Hollenbeck earned the Best of Show award 2013 O'Keefe Elevator Company Art Show in Omaha, Neb.. Hollenbeck is a sophomore in Concordia's art education program. Five other Concordia students also were honored at the show.
Art therapy major Jenelle Hallaert, a sophomore, won second place in the three-dimensional art category. Senior studio and ecclesiastical art major Evan Balleweg took third place in 3-D. This category included all forms of sculpture in any medium, ceramics and jewelry.
In the two-dimensional art category, junior graphic design major Mary Masur won second place and was selected as the recipient of a purchase award. Sophomore graphic design major Dane Stahr earned third place, and junior graphic design major Tasha Burrill received honorable mention. The 2-D category included drawing, painting, printing and all other forms of flat artwork.
"The award recipients represent each degree we offer out of the (art) department," said Don Robson, department chair and associate professor of art at Concordia, was especially pleased that the award recipients represented each area of art study at the university. "I am reminded daily of how truly blessed I am to serve at a university and in a department with brothers and sisters in Christ who share a common faith and a desire to be the best we can be."
The show, sponsored by the Nebraska Independent College Foundation, marked its 10th anniversary this year. The exhibit features artwork by students from six of the foundation's eight member colleges and universities.